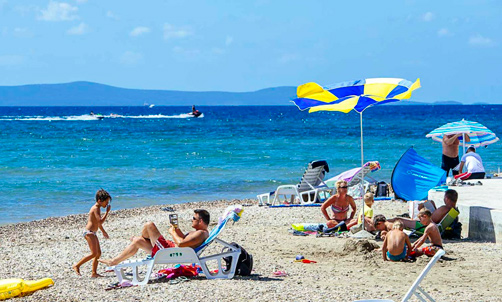 5 Tips for a Great Day on the Beach (in Zaton)
The right beach - an essential part of a great summer holiday. While it's hard to find the one that caters to all tastes, there are those that are generally considered to be excellent spots by the sea. The famous Zaton beach is one of them - it has plenty of sun and more than enough shade, it's pebbly and sandy, it offers a variety of fun options for every member of the family. Here are a few tips about how to enjoy a day on the beach to the fullest:
1. Finding the right spot
One secondary goal for the summer may be to get that nice tan that feeds the skin with vitamin D and gives it that irresistible look, but that does not have to mean that it's essential to spend the day lying in the sun to achieve it. In fact, one of the best options is to find a great spot underneath the famous pine trees. The sun comes through anyway, but it's still highly recommendable to spend some time in the shade as well, so as not to risk sunburn and headache due to overexposure to the sun.
2. Getting comfortable
Depending on personal preferences and how much time is actually planned to be spent enjoying in the shade, choose the right sitting or lying gear: beach blanket and towels, beach umbrella or a tent. Zaton Holiday Resort has made sure its guests truly feel relaxed by arranging a zone to rest. So, pick your bench free of charge, place a hammock between two pine trees or rent a sun lounger.
3. Being active (or not)
A day on the beach doesn't have to become an endless exchange of swimming and sunbathing, even though they are beach classics. Why not read a book, listen to music, take a nap? Or have fun with the kids by playing in the sand, helping them look for shells, snorkelling with them, or renting the paddle boat with a slide. And then go separate ways - participate in the water aerobics and/or play beach volleyball, while the kids explore the playgrounds, climbing nets and ropes as well as slides, jumping and climbing inflatables in the water. The more activities you do, the more fulfilling your day turns out to be. Unless you really prefer just to relax in the shade.
4. Eating smart/out
Plenty of water is rule number one for a day out (in the sun). Fresh fruit is also a great source of refreshment, particularly such as watermelons, figs and peaches. While they are just right for in-betweens, spending time on the beach and in the sun takes a lot of energy, so have a proper meal to restore it. Luckily, the Zaton beach has plenty of restaurants and snack bars to choose from. So, whether you grab a quick bite such as a hamburger or some fish in the traditional Dalmatian konoba is entirely up to you.
5. Keeping it (in) safe
Sometimes it's hard to leave all those gadgets behind even if just for a couple of hours, but it's a good idea to do so every now and then. So, don't take them to the beach, not so much because they might get stolen (not very likely in Zaton), but you may damage them by chance.
And don't forget …
The sunscreen. To completely relax. And to smile. Because you're spending the best summer day ever on the best beach there is. At Zaton Holiday Resort.