So where are YOU staying at Zaton Holiday Resort in 2022?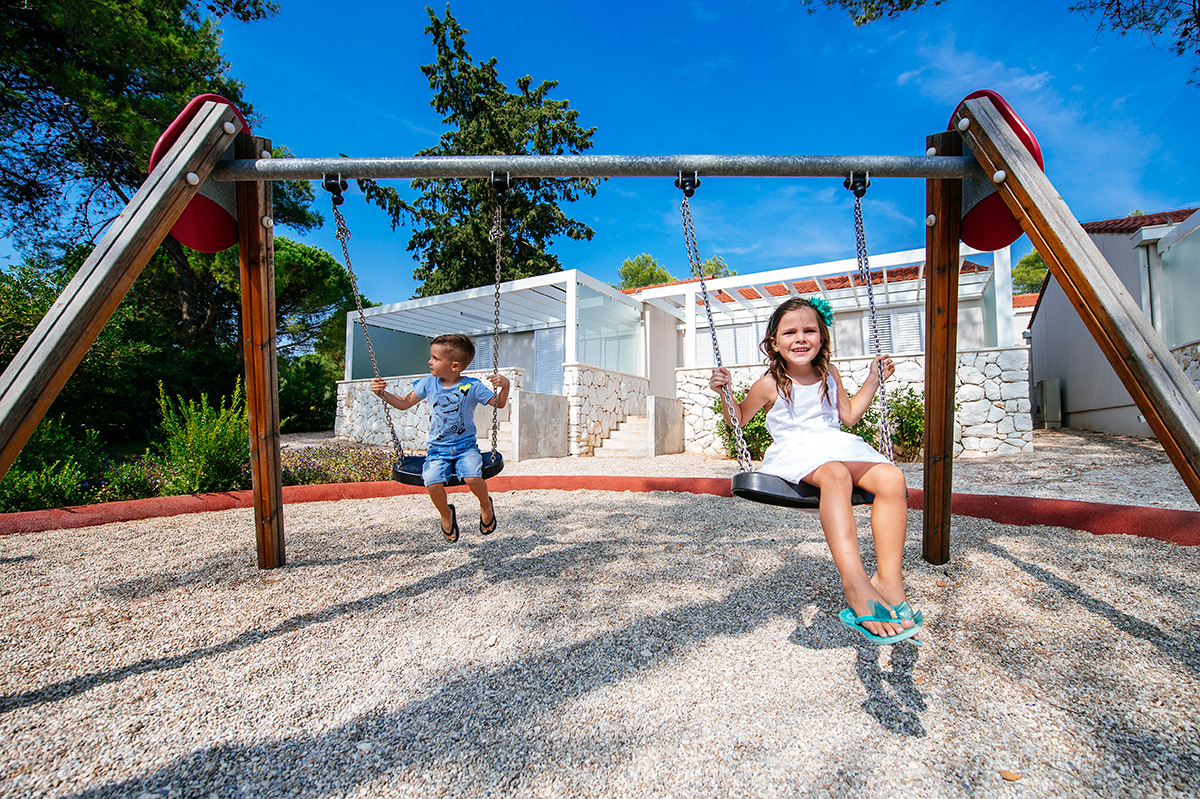 A crickets' chirp lulling you into a carefree afternoon nap, as you are lying in a hammock or on a lounger, in the shade of a fragrant pine tree, not far from the sea… Because life is good! And even more so at Zaton Holiday Resort.
So, what will it be for you in 2022? A camping adventure at its best? Be it on a camping pitch, in a glamping tent or a mobile home. Or a home-like stay in an apartment? Play it safe and pick your favourite option. Or go for a bit of a different story next year. After all, you can't really go wrong either way.
Modern apartments
Step into your home on holiday! The apartment area is located in the southern part of the resort, right by the central street, the beach and the swimming pool complex, and conveniently near sports and leisure amenities.
The air-conditioned and fully applianced apartments allow you to continue your family routine, as if you were in your own house, but also with the comforts of a hotel. The furnished terrace or a balcony also provides a space for you to enjoy special moments with your nearest and dearest out in the open. The wonderfully tended garden with playgrounds is also just outside.
Useful fact. As of recently, apartment guests have a self-service laundry at their disposal in the apartment area of the resort.
Excellent campsite
Get ready for a great time outdoors! Disconnect in beautifully tended Mediterranean surroundings in one of Croatia's top campsites. It is situated in the western part of the resort, with more than a thousand large pitches with electricity, water and sewage hook-ups.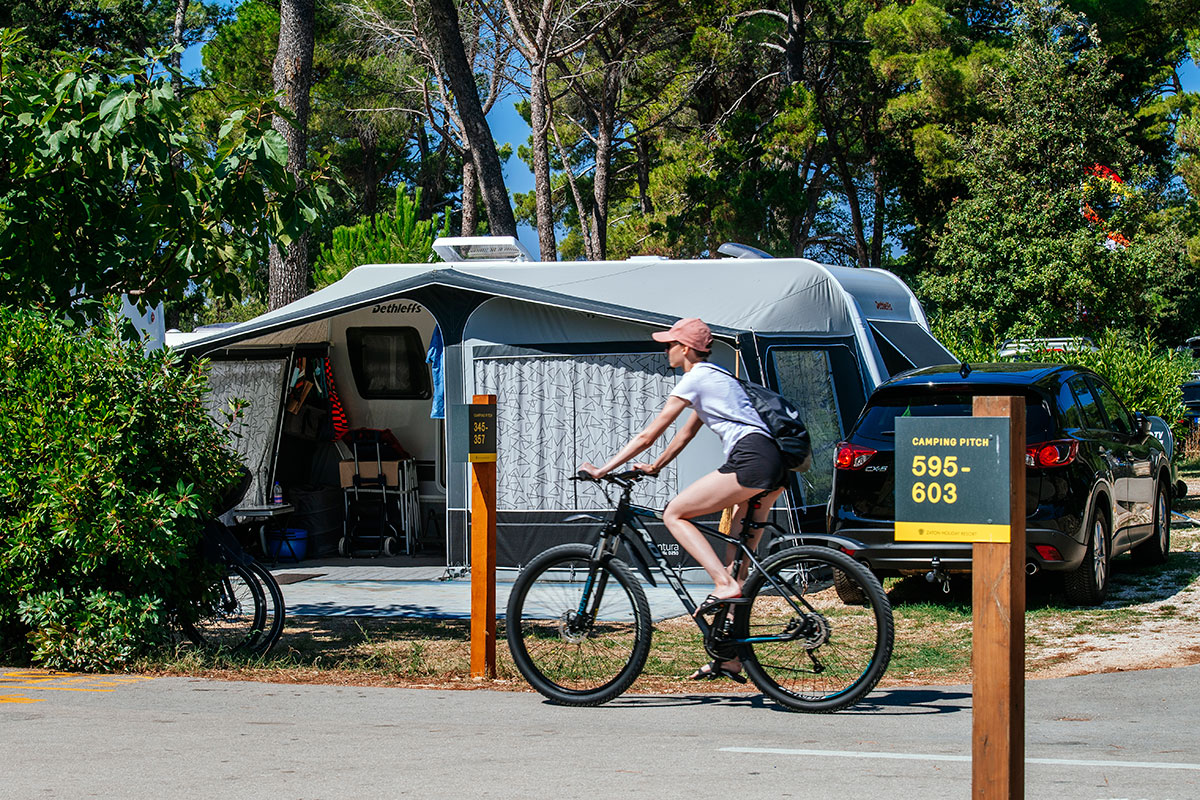 Camping enthusiasts can use state-of-the art sanitary facilities catering to particular needs of families and people with walking disabilities. There is also a sanitary facility with a special shower area for pets. The facilities generally include family bathrooms, modern shower cabins, practical washing and laundry areas, refrigerator boxes for rental (available at 2 out of 5 facilities), playgrounds and a barbecue area nearby. There is also a service station for wastewater disposal from motorhomes at your disposal. In short, all you might need for a lovely stay in nature.
Fun fact. Sanitary facility nr. 3 was inspired by the ancient Roman baths (Lat. Thermae), since the resort is located where once the port of Nin, called Aenona in the Antiquity, stood. .
Charming mobile homes and glamping tents
For a unique experience in lovely surroundings! With a bit more privacy and comfort than traditional camping, you can enjoy your stay in the northwestern part of the resort. Both mobile homes and glamping tents are well equipped with appliances and come with a furnished terrace for quality moments outdoors.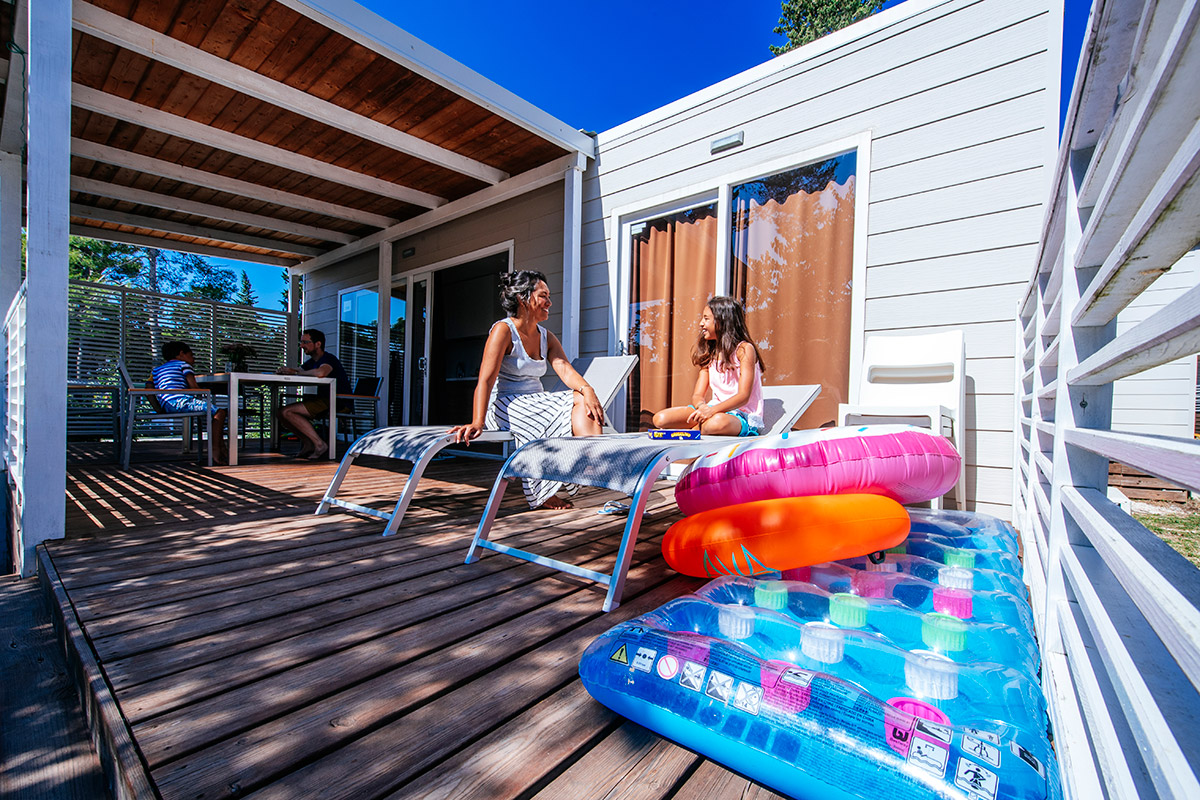 As its name suggests, a charming air-conditioned mobile home does feel like a home. But it also invites you to spend time outside, taking in the nature around you. The same is true for glamping tents. Decorated in neutral colours and perfectly blended in its natural surroundings, your 'safari lodge' gives you the opportunity to experience camping with a unique touch.
Fun fact. Staying in a mobile home, you also get a garden patch with cherry tomatoes and native herbs, which you can use in cooking.
Not a second too soon
It's never too early to daydream… about fulfilling moments on a camping pitch. In a glamping tent or a mobile home. Or a home-like apartment. With a world of activities at your disposal and amenities to use. So, take your pick, check out the special offers and start the countdown… till your holiday at Zaton Holiday Resort in 2022!