Amenities and Activities Free of Charge at Zaton Holiday Resort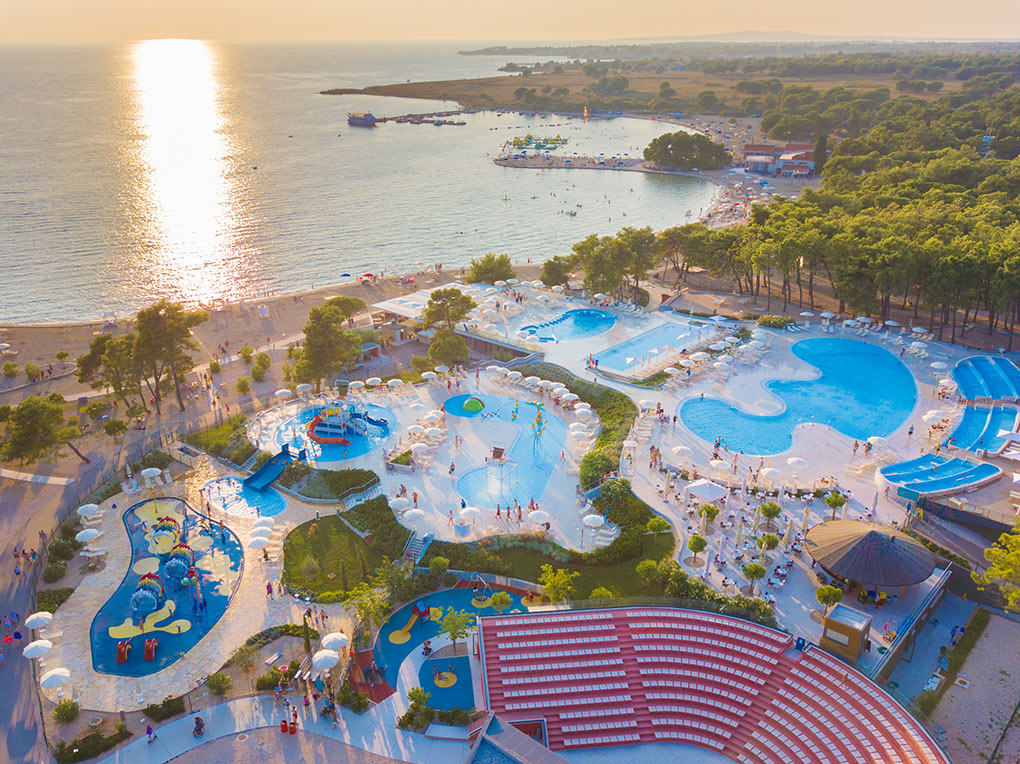 Ready, steady, book 'n' go! Go, when the time comes, to the place where an amazing holiday experience is not only a promise, but a guarantee - Zaton Holiday Resort.
Offering so much more than just a lovely place for a seaside holiday, the resort has numerous available amenities for your entertainment, comfort and pleasure, many of which come with no extra charge:
The swimming pools … all for you
An exciting spray park and water slides for kids - check! Swimming pools for all generations and aptitudes - check! Hydromassage beds with a sea view - check! The pools are not just any pools at Zaton Holiday Resort. The recently refurbished swimming pool complex with extensive sundeck overlooking the sea is an endless source of fun, pleasure and exercise. Most importantly, they can be accessed only by the resort guests and that without any additional charge.
Pure entertainment… all day, every single day
Keepin' everyone happily busy! Nothing can be more enjoyable than watching the kids running around with a smile on their faces all day long. In addition to various playgrounds and climbing nets, our animation teams encourage the kids to pursue their favourite pastimes, dance in the mini disco, take part in workshops, fun competitions such as Ninja races and performances at the theatre - all with the enthusiastic support by Zatonino, the resort's friendly fluffy mascot. Zatonino Kids Club, indeed, is a fun place to be and will be even more so following the planned renovation in 2020.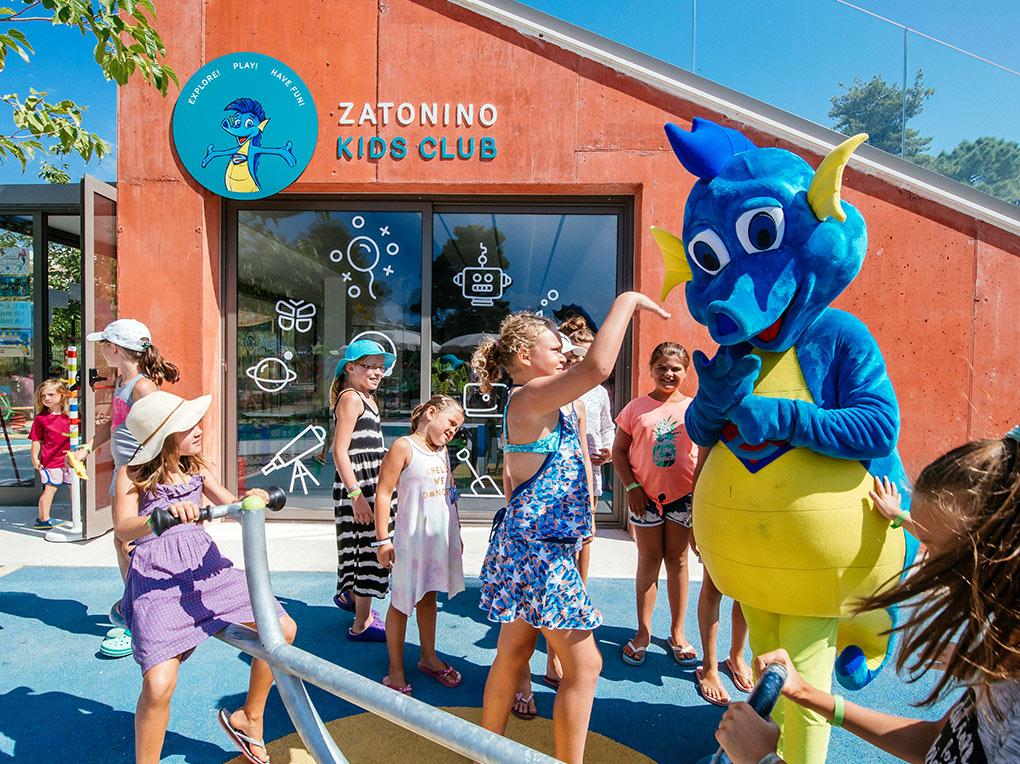 Still, entertainment and animation are not only limited to kids and teens. The adults are also invited to take part in a number of activities run by the animation team free of cost. For example, you can join in the fun competitions, quiz and game shows, or simply sit back and enjoy wonderful performances under the starry evening sky - from live music at the central beach stage to lavish musicals at the theatre.
Being active … without extra charge
Welcome to your large playing field! Whether you are an avid fan of a particular sport or like being active in general, you have at disposal numerous sporting facilities you can use without any expense.
You can do a workout outdoors using freely the fitness gear, take part in aqua gymnastics and aerobic as well as go for a run along the trim track. Why not also play a game of (beach) volleyball or soccer, give your best shot in a game of handball or basketball, show your hand-eye coordination and skills in archery at the Flip Flop Activity Park. Should your family members be interested in some guidance, Arching, Swimming and Football academies are available throughout the week with a one day break at the weekend.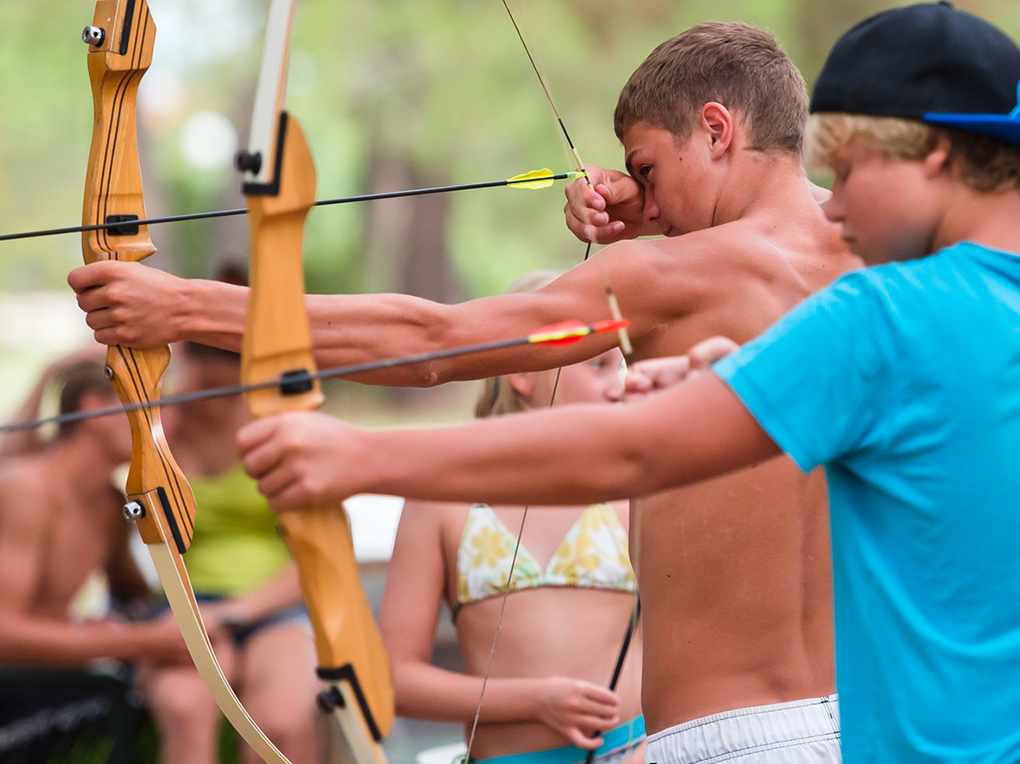 All for a carefree stay
Then there are also the little things that make your stay so much simpler, simply splendid … While the resort may give your family a lot to do and explore, there might come a moment when you just feel like taking a break, posting a #ZatonMoments photo on Instagram, browsing what's up in your hometown - without having to worry about the Wi-Fi usage. In addition to free Wi-Fi, a bedding set and a set of towels await you in your apartment unit, a mobile home or a glamping tent with exchange once and twice a week respectively. Also, you won't have to think about where to leave your car during the stay since the resort provides free parking spaces for guests nor will you have to look for a charging station for your electric vehicle as there is one on the spot for you to freely use.
Check and plan
Sports, entertainment and absolute fun … can come free of charge in Zaton Holiday Resort! So, take a look at what's available for free use, which activities come with an extra charge and turn to us when in doubt, so that you can make an approximate plan and manage your stay accordingly. Because one fine stay it's gonna be, that's a guarantee!