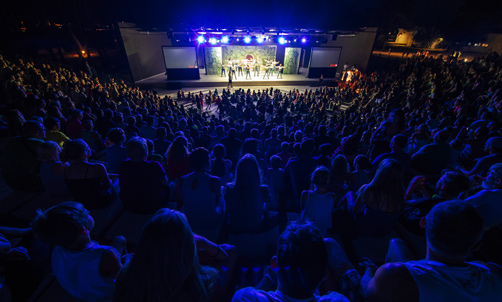 How to Spend a Great Evening in Zaton
It's time to pack your things and head to your holiday home because all great things must come to an end, and so does a fantastic day at the beach or the pools. Still, by no means is the day over. After all, the sun begins to set round 8 o'clock in the evening, so there are plenty of exciting things still awaiting you. So, drink a glass or two of water for refreshment, take a relaxing shower, put on your favourite light summer outfit and you're good to go. Where to? Here are a few suggestions:
1. Play a round of mini golf
For a fun evening, pick an activity such as mini golf in which the whole family can participate. Apart from Adventure Mini Golf built a few years ago with mini representations of Zadar region's most famous sights, in 2017 Zaton Holiday Resort has expanded its mini golf area. So it's not only entertaining, but informative as well.
2. Have a delicious meal and ...cheers!
Even if you have booked half-board, why not treat yourself to a dinner in a typical Dalmatian restaurant? After all, you cannot go home without having tried the heavenly taste of Dalmatian specialties. And then afterwards, have a cocktail as you watch the sun set.
3. Romantic walk along the shore
You may have spent the entire day at the beach, but taking a walk along the shore is something special particularly if you choose to do that when the sun sets. The unique play of colour will take your breath away.
4. Discover spots dedicated to ecology
Zaton Holiday resort takes great pride in its eco project 'Zaton- nature we grow with' and places dedicated to ecology can be found all over the resort. So, find the spot to relax, think, enjoy, laugh, connect and hang out and find out more about the plants around you, crickets that sing for you all day long as well as other animals.
5. Set the stage for a fun night
Zaton Holiday Resort's new amphitheatre for more than 700 people is a place where you can watch a different show practically every evening. So, don't miss this year's absolute hit show Beauty & the Beast or catch a movie on some other day. You can also enjoy a variety show as well as the show called Your Face Sounds Familiar, to name just a few shows you can choose from throughout the week.
6. Dance the night away
Fans of dancing will be delighted to know that every night they can dance to a different rhythm at the resort. From salsa to contemporary music played by a DJ, move to the irresistible summer beat. You can also enjoy live music played by a band and even spend the evening listening to Dalmatian music.
And relax…
In a hammock on your camping pitch. With a glass of wine on the extensive terrace of your mobile home, glamping tent or your apartment. And then look up at the starry sky and thank your lucky stars for another fabulous evening in Zaton.