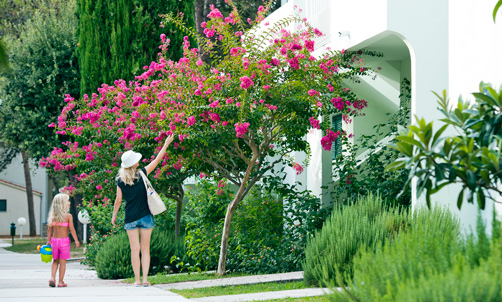 5 Reasons to Travel to Zaton Off-Season
Situated in a sheltered bay and with the never-ending promise for a dream holiday, Zaton Holiday Resort is without a doubt one of the most desired holiday destinations on the Croatian coast.
The best beach in Dalmatia, excellent accommodation facilities which include a campsite, apartments, mobile homes and glamping tents, as well as a variety of activities available, attract guests from different countries, year in year out so much so that it is extremely difficult to book a holiday during the high season without previous planning a few months beforehand. Still, Zaton is equally lovely just before and immediately after the very busy July and August, so why not consider taking a holiday a bit off-season? Here are a few very convincing reasons:
Everything ready
All the accommodation options available at Zaton Holiday Resort will be equally lovely as in the peak season. The same is true for all the fun areas for kids, such as playgrounds, climbing nets and swimming pools, activities such as riding, swimming, playing different sports as well as many, even if possibly not all, animation programs.
Pleasant weather
Will it be equally sunny and hot as it usually is in July and August? Nobody can guarantee that, not even the weatherperson. Still, the weather tends to be warm with very agreeable temperature of 20-25° C or more, even if it's usually not as hot. It's just the perfect weather to spend the entire day without a care in the world out in the open, whether on the beach, by the swimming pool or on a trip.
Less crowded
Visiting Zadar region off season also means less crowds. Naturally, there's plenty of space for everyone at the beach, but at the same time it's a much more convenient time of year to explore all the amazing attractions in the vicinity, starting from an easy bike ride to Nin, a relaxed stroll along the historical streets of Zadar, taking a trip to Kornati islands or hiking in the Paklenica National Park when it's not so hot, visit Krka or Plitvice Lakes when there will be far less people waiting in the queue to get the ticket and let alone once you enter the territory of the parks.
Less trafficky
Another advantage of a holiday off season refers to the actual arrival. While some parts of the A1 motorway tend to be busy most of the year, they are hardly ever so full of vehicles as during high season. In other words, driving to Zaton is by far more pleasant before or after that time of year.
Friendly price
Needless to say, not only are the tickets for many places of interest generally a lot cheaper off season, so is the accommodation price. So, why not use the extra money instead to take up a new hobby on holiday, pamper yourself with a massage or treat yourself to a breathtaking adventure such as a panoramic flight over the Zadar archipelago?
Go right, go off (season)
There's really no need to wait for the peak of the summer, when everything begins to roll already in May, continues in June and then again afterwards, in September. After all, Zaton Holiday Resort truly has so much to offer, it's practically impossible not to experience the holiday to the fullest. So, enjoy the peak, enjoy it off season. Just enjoy it.