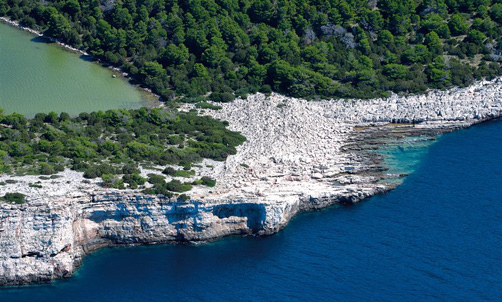 Hidden gem - Telašćica Nature Park
A look at the map of Zadar archipelago reveals a kind of a line formed by Dugi Otok, which translates as 'long island', and Kornat island, the largest island of the Kornati islands group. A point where the two of them seem to touch is where the area of Telašćica Nature Park begins. It's a place of inspiring sights of nature, a place many species of animals and plants have chosen for their home.
Facts and figures
Telašćica is a bay with six islets and surrounded by a few more islands and islets on the outside. It's located in the southeast of Dugi Otok and covers the area of altogether 70 km². The bay itself is very indented, with numerous coves and capes. Due to its rich flora and fauna, a number of amazing geological and geomorphological features as well as interesting archeological findings, Telašćica has been protected since 1980, and was declared nature park 8 years later. It happens to be the largest and one of the loveliest natural havens, providing shelter for anyone in need, even though storms aren't very likely there since it's one of the sunniest places in the Adriatic Sea.
What to see and do
The outer side of the island, facing the open sea, is famous for its cliffs, which go as high up to 161 m at Grpašćak, which also has a lookout with a view of the cliffs, the so-called Stene ('rocks'). The awe-inspiring geomorphological shapes are also home to a great number of plant and animal species, some of which are endemic. It's also one of the rare places where red corals can be found.
Another interesting geomorphological feature is Lake Mir ('peace'), which is not very deep, but it is extremely salty. For that reason, not many sea animals can be found there. Its southeastern part is also known for healing mud.
Apart from Stene and Lake Mir, Telašćica Nature Park is full of places where visitors can fully enjoy wonderful nature all around - they can choose any of the many untouched beaches to have a rest, stand on the rocky islet Taljurić with the funniest straight surface there is, or have a bite on picturesque Katina island, visit cultural-historical sights that testify to human presence on Dugi Otok that go back centuries, take photos with friendly donkeys, look out for dolphins that like to appear in and around Telašćica or, if you're lucky enough to have what it takes, to dive and explore the underwater world.
How to arrive
The best way to explore the lovely Telašćica Nature Park is to sail around it, whether by rented boat or privately owned one. There are also numerous trips organized from the mainland to the park. Apart from that, a few ferry boat and catamaran lines connect on a daily basis Zadar and Sali, a village closest to Telašćica Nature Park.
Explore and preserve
Telašćica Nature Park represents the very best of Croatian seaside - breathtaking, well preserved nature with one-of-a-kind features. It's a place to visit, take in the wonderful scenery all around and simply feel inspired.
Image source: http://goo.gl/d6r9pI