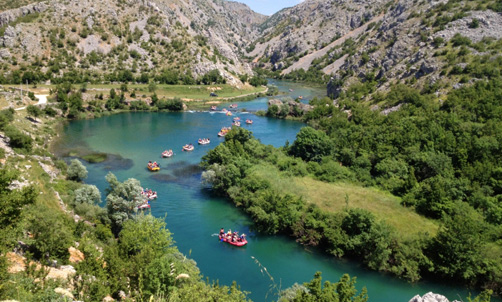 Spring in Zadar Region - Time for Active Holiday
The weather is gradually becoming warmer and days longer, the sun is shining more often than not, the trees are blossoming all around… It's spring and it's finally here. It also invites us to wake up from the usual winter hibernation and to become more active. And Zadar region has quite a few exciting options for everyone looking for an early active holiday - from hiking to rafting and more.
Exploring Zrmanja
The best time of year to discover Zrmanja river is in spring, particularly for those looking for a rafting adventure, because the water level is high enough and the rapids just right to give the adrenaline thrill that comes with such activities. For that reason, March, April and May are the busiest months for fans of rafting. Still, if you like being active on holiday but prefer to take it a bit easier and yet discover the beautiful canyon and blossoming nature around Zrmanja and its tributary Krupa, other options include kayaking, stand up paddle boarding or simple hiking.
Paklenica hiking
Routes along Zrmanja river are by no means the only attractive paths to take in order to actively explore beautiful nature in Zadar region. Paklenica National Park is the ideal place for nature lovers or, in other words, it's a piece of heaven on earth for rock climbers, hikers and joggers. The amazing geomorphological shapes and refreshing nature are what visitors to Paklenica get to experience as they master any of the chosen trails. Both casual walkers and extreme hikers can pick a trail to their taste, since there are up to 200 km of paths available. End of April, visitors to the Park can also add an exciting dimension to their visit by participating in the Paklenica Trail International race, since it has three levels of difficulty, which are suited for amateurs as well as professionals.
Cycling the region
Increasingly more cycling routes are available every year and it's becoming more and more popular to hop on a bike and get to know Zadar region like that. In fact, there are around 3000 km of cycling routes available, half of which are exciting mountain bike trails, while the other half are road trails and paths which are a great choice for families. Cycling is an excellent way to go through untouched nature, but also to do some sightseeing along the way.
Ready, set, go!
Holidays are precious moments we have to recharge, do things we normally may not have the time to do and discover new amazing places that inspire us for months to come. Most visitors come to Zadar region in the summer months, but spring is also a great time to come and take it easy, but still be active. It's the time to explore the seaside and the hinterland in order to see the nature awaken, to witness the blooming trees, to take time and stop along the way to chat with the locals. Indeed, spring is the time to feel inspired, to become active together with nature, to feel the excitement and the adrenaline of being active. To feel … life.
Image source: http://goo.gl/L8EqIu