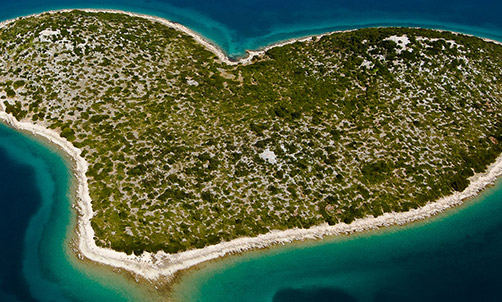 Did You Know's - Nature Wonders in Wider Zadar Region
Clear blue sky above, transparent water on the beach equally refreshing as the thick shade of the evergreen pine trees - Croatia is famous for its well-preserved nature. From national parks to less known wonders of nature, Zadar region truly offers a lot to choose from both on the mainland and at sea for all fans of the outdoors . Here are a few facts you may not be aware of:
Paklenica National Park

The southern slopes of Velebit have been protected as a national park for more than fifty years. The amazing geomorphological shapes continually attract climbers and hikers, but the park is also famous for its diverse flora and fauna. After all, Paklenica is home to a few endemic species, for example, a flower called pjeskarica grows nowhere else in the world. Visitors to the Park may also be curious to find out that the human presence found in the caves in Paklenica dates back thousands of years.

Cerovac Caves

Even though Paklenica is well known for pits and caves, the biggest ones of the latter are found near Cerovac, in the southern part of Velebit Nature Park. There are more than 4 km of channels that have been researched so far, and visitors can visit some of them. Cerovac Caves are also the biggest discovery site of the cave bear, a species that existed thousands of years ago.

Krka National Park

One of the most visited national parks in Croatia, Krka is mostly famous for its waterfalls and cascades. Similarly to Paklenica, the park also has rich diversity of flora and fauna with many endemic species. For example, four species on the list of endangered species in Europe such as otter, wolf, wildcat and a type of bat can be found there. Along the course of the river there are as many as a hundred speleological structures such as pits and caves, in a few of which traces of human presence date back a couple of thousand years. Another interesting sight to see is the charming small Visovac island with a monastery right in the middle of Visovac Lake.

River Zrmanja

Zrmanja is the hidden beauty of the Zadar hinterland. Amazing scenery and geomorphological shapes attract visitors to explore the river by boat, kayak/canoe or raft. They might not directly witness the many species of flora and fauna, but Zrmanja represents preserved nature and a habitat for some endemic species. Visitors can also spot what's left of the peculiar mills with horizontal (rather than vertical) wheels that were once crucial for human survival.

Kornati islands

The islands of the Kornati group continue the story of wonders of nature. Round 150 islands, islets and rocks have altogether the surface of 320 km2 and a bit more than half of them form part of the national park. As G.B. Shaw said, "On the last day of Creation God desired to crown His work, and thus created the Kornati islands out of tears, stars and breath." Indeed, it really is hard to decide whether to admire the islands from air, by boat or to go a step further and explore the amazing underwater world around them.

Galešnjak island and Pag island

The two islands seemingly have nothing in common, yet their features remind us of something else. Pag is one of the largest Croatian islands , that has become famous among younger generations particularly for the famous party beach Zrće. Unlike the rest of the coast which is characterized by Mediterranean greenery and pine trees, Pag has scarce vegetation so much so that it's compared with the surface of the Moon. Still, the specific grass and herbs that do grow are crucial in the production process of the distinctive cheese - Pag island cheese.

Also referred to as 'love island', Galešnjak is one of the few islands in the world that is naturally shaped as a heart. Situated between Pašman island and the mainland, this tiny island has become a desired destination for those in love.
Breathtaking nature

Croatian seaside truly has a multitude of gems to explore for fans of nature and amazing scenery. From islands, rivers and mountains it's practically impossible to choose favourites, since they all fit the 'must-see' category.
Image source: http://goo.gl/gdG8ye