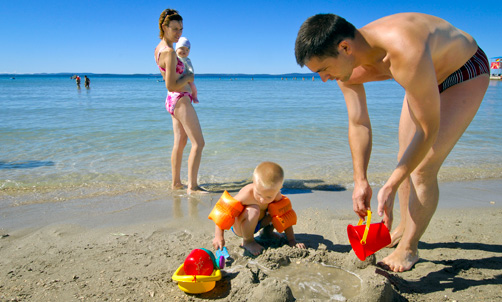 Family holiday in Dalmatia, Croatia

A family holiday is always fulfilling - it's a quality time spent with loved ones, away from everyday petty worries. It's the time to recharge, experience together unforgettable moments, create and share everlasting memories.
Still, planning a family holiday is not necessarily as easy and straightforward as it may seem. In fact, it means bearing in mind everyone's habits, wishes and finding just the right solution so that each member of the family has a lovely time on holiday. Here are a few things to bear in mind when deciding about a family holiday in Croatia:

Pick the right destination
There's nothing better than to spend a holiday in nature, outdoors, by the sea, where there seem to be so many options and it's practically impossible to get bored at any point. When choosing a holiday destination in Dalmatia, bear in mind the services immediately available, depending particularly on your kids' age. For example, the numerous islands are amazing to visit, but, unless you own a boat, you depend on ferry lines. Prior to arrival, get information about the nearest doctor's office and pharmacy. Some resorts, such as Zaton Holiday Resort, have basic and emergency medical service at hand. It's the one thing you definitely wish you won't have to use, but good to know in any case.

Consider accommodation options
When travelling as a family, it's wiser to opt for a self-catering holiday. There is no stress about mealtimes and the family can continue its normal routine as if they were at home. Camping is one of the possibilities, as well as mobile homes for those who like campsites but don't feel like staying in a tent or a trailer. For holidaymakers who prefer privacy and, usually, more space, there are apartments. Zaton Holiday Resort is one of the few accommodation providers in Dalmatia, and generally in Croatia, that has all three options available on one location.

How's the beach?
Without any doubt, it's basically one of the most relevant questions for any summer holiday at sea. Beaches in Croatia vary greatly - from sandy, pebbly to rocky, from wild beaches to those that have man-made facilities, some have wide stretch of shallow water while with others the water becomes deep just a few strokes from the shore. One of the best beaches in Croatia, Zaton's beach, is an excellent choice for families, where generations have learnt how to swim. It's mostly sandy and partly pebbly, widely shallow by the shore, so even parents with toddlers can freely enjoy fun time in water.

Keep your family entertained

Make sure your chosen destination provides a number of activities for all generations and affinities. Apart from the beach, kids can participate in fun games, learn a new skill, take up a hobby and meet other kids of their age. It's about giving your kids and yourself excellent summertime. Why not encourage them to photo-document all what you do as a family, so that you relive the happy moments even once you come back home.

Time to remember

Family holidays are a time to bond, to live amazing moments and do small things together. Zaton Holiday Resort is one of the best places in Croatia that gives families precisely that. Unsurprisingly, many choose to return the following year for more. Again and again.