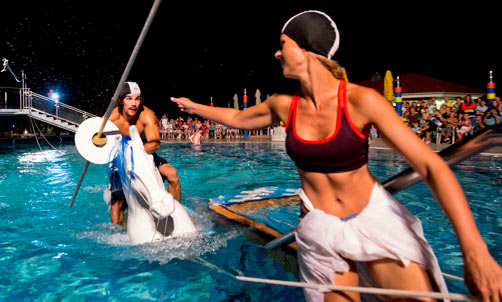 Team Building at Zaton Holiday Resort

A satisfied, hard-working, confident and passionate employee is a dream come true for any employer. It's the kind of a person everyone wants to have and keep in their team. However, the fast, stressful pace of task-solving at a workplace, occasional misunderstandings in daily communication with colleagues that can boil up into hostility, gradual loss of team spirit can have an impact on any person and, consequently, reflect in negative business results.
Team building is a convenient way to restore or simply maintain great work environment - it's about socializing in a stress-free, work-unrelated situation, collaborating in fun activities that foster creativity, confidence and teamwork, and, ultimately, it's about creating joint memories that will be retold at work for months to come.

Teambuilding in Zadar region

The best way to work on and with their team for any employer is to take them out of their everyday working routine, ie out of their office and into the unknown or at least to a place less familiar. Northern Dalmatia, particularly Zadar region is an excellent choice as a location for team building due to its rich diversity of possible activities - from the seaside to the mountain, from sightseeing to games, sports and adventure. When planning a teambuilding trip, Zaton Holiday Resort is a great host to start looking.

Zaton Holiday Resort (at your) service

Situated in lovely, peaceful Zaton, and quite close to a large number of places of interest, the resort can take in large groups of people and ensure their teambuilding story is well written with a promise of a very happy ending. With facilities and amenities available as well as the experienced staff, the resort guarantees a memorable stay for any team, regardless if it's a semi-working trip which includes seminars and workshops or purely bonding entertainment.

While the pacifying effect of the sea paired with particularly healthy Mediterranean cuisine can work wonders on each individual team member and, by extension, on the team as a unit, a bit of healthy competition in the form of sports activities or entertaining games planned specially, can only make the stay so much better. Mini tennis doubles tournament or matches of team sports such as volleyball, handball, basketball, futsal and others can foster cooperation and team spirit. In addition, one look at Zaton summer games suffices to get a general idea of the amount of fun any team can experience, even if these games weren't held for a particular team building. Playing silly and loosening restraints holding them back in daily life, means colleagues show each other their true selves which improves communication and tolerance.

Granted, Zaton Holiday Resort provides more than sufficient options for organizing team building on the premises, but the overall experience can be further enriched by organizing with the help of the staff a sightseeing trip to Zadar, cycling excursion to Nin, sailing round the islands of Zadar archipelago, hiking in NP Paklenica, visiting NP Krka, etc. When the main guideline of the team building is to teach employees how to overcome challenges, the trip could also include adrenaline-filled adventure - from rafting along Zrmanja river, parachuting or panoramic flights, to kayaking along the coast. Only sky's the limit.
Team up

Zaton Holiday Resort is an experienced partner for any employer who wishes to reward its team or deal with potentially disruptive issues in a neutral environment. After all, why not use the wealth of opportunities available at the resort and Zadar region, have a pleasant and exciting trip with coworkers and build a winning team at the same time?