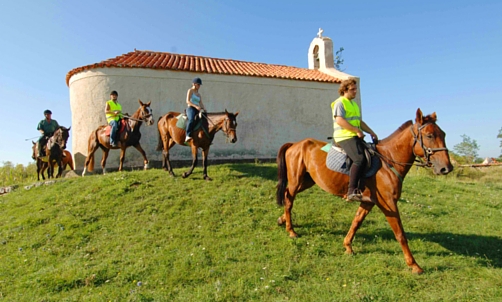 Horseback Riding in and out of Zaton
The sun has just awoken and risen to rule the clear blue sky. Light breeze paired with morning freshness sets the perfect scene for a ride along the beach. That's right, not a stroll, but a ride on horseback. It's a very romantic holiday image and absolutely available for anyone at Zaton Holiday Resort. Curious to try it out? A more experienced equestrian looking for a bit of a challenge while discovering the beautiful scenery? Everyone can learn to ride a horse, improve their skills or simply use them for excellent and pleasant exercise.
Why horseback riding?
Apart from being a fun activity and pastime on holiday, horseback riding has a few additional benefits. Not only is it a great form of exercise with many muscles working together at the same time, it also develops balance and body awareness. Beginners might feel sore, particularly the legs, but it is all worth it with every next ride as your confidence grows. Once you master the simple walk, you'll want to learn to trot, then canter and finally gallop. Naturally, it's not something that can be easily achieved in one summer, but the joy of riding, fun of group rides and the connection with such a noble animal is simply worth it. Needless to say, the pacifying activity has no age limitations. Horseback riding is also an excellent excuse to see the sights - maybe not the historical sights in the town nearby, but rather the breathtaking beauty of the sea and nature all around.
Riding centre at Zaton Holiday Resort
At the resort, fans (-to-be) of riding have several options to choose from - riding school, summer riding camp, pony riding and riding tours. Depending on age, acquired skills and interest, every guest can pursue horseback riding by taking individual or group lessons.
Riding a pony gives smaller kids the opportunity to lose possible fear of the majestic yet slightly intimidating animal due to a great difference in size. Kids can also feed the animals and take care of them, basically they learn to appreciate the friendly animal. If they live in the city, it's one of the many lovely holiday memories they will create.
Inexperienced fans of riding or active holiday seekers in general have the option to acquire a new skill by taking a few riding lessons. They will learn the basics and do some exercise at the same time. Advanced equestrians needn't renounce their favourite pastime while on holiday and can actively pursue riding in a new setting.
Better get on that horse
One or two-hour riding tours available at Zaton Holiday Resort crown perfectly the efforts at riding school and are a real holiday treat. Apart from trail riding in the countryside, the beach tour gives the guests the unique experience of exploring the lovely scenery, the sea with Velebit mountain in the distance. While you walk along the beach and through the water on horseback, with the refreshing scent of the sea and no other sound but the murmur of the waves, you'll feel fulfillment in every respect. And that's precisely what holiday is all about.