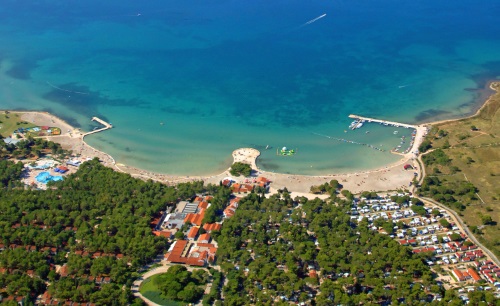 Zadar Region - a Place for All Generations and Affinities
Zadar region truly is a place where all your senses awake. With its three hundred islands and islets, Mediterranean climate, hundreds of localities and good people it simply is a wonderful area which pleases all affinities. In the heart of the region lies Zadar, a city of exceptional history and impressive cultural-historical heritage. Heritage mingled with modern attractions labels Zadar as well as the entire region as the place where you can perfectly fulfill your time and in so many ways: amusement, sports, recreation and animation for children, excursions, nature exploring, sightseeing...
Zadar archipelago
Dugi otok, Iž, Molat, Pag, Premuda, Silba, Ugljan,... To name but a few islands of Zadar archipelago renowned for their beauty. Some of them are uninhabited, but it doesn't really matter if they are – your search for clean sea and intact nature ends here regardless of whether you are a boater, walker, climber, cyclist. Indeed, the whole Zadar region is a well known Adriatic nautical paradise.
Exceptional history
From Roman period to the time of the First World War, Zadar went from capital of Dalmatia over Austro-Hungarian Empire to Turks and Napoleon. It is all materialized in the city walls, palaces, churches, monuments in the city as well as throughout the region.
Zadar lives under the auspices of four saints: Zoilo, Simeon, St Chrysogonus and Anastasia, having also the smallest cathedral in the world. This is the city with water system built during Roman emperor Trajan, St Donatus' church from the 9th century, public electricity system established at the end of 19th century, and it has one of the oldest universities in Europe, to mention a few of the city's attractions. Other places of great historical-cultural significance are Nin and Pag as well as other smaller localities.
Particularities
Places of particular interest in Zadar are Sea Organ and Greetings to the Sun, one-of-a-kind installations. The Sea Organ is a unique venture of human creativity on the Zadar peninsula - it produces a sound coming out of stone steps sorted by formula known only to its designer. Right next to it, there is a play of lights in the rhythm of the waves called Greeting to the Sun. At sunset, this is the spot where everybody wants to be.
Cuisine - The healthiest in the world
Yes, and that is so thanks to the three essentials of the Mediterranean cuisine: fish, wine and olive oil. Zadar region is well known for sea food, vegetables, herbs and spices, lamb meat, prosciutto, Pag island cheese, marinated anchovies, etc.... From the seaside to countryside, exquisite restaurants or taverns by the sea, these are the absolute must-haves on every menu.
Events
They are countless and cater to everyone's taste and all age groups. Towns and villages alike present themselves through these events - from tradition, culture and sports to entertainment. Some of them are: Noć punog miseca (Full Moon's Night), Ninska šokolijada, Glazbene večeri u Sv. Donatu (Music Nights at St. Donatus), Škraping Pašman, Kalelargart Street Art Festival, Avantura Film Festival and many more.
The heart of the Adriatic Sea
With its cultural-historical heritage, breathtaking beauty of nature and a wealth of events and activities, Zadar region is the perfect place for a holiday. Once visited, the heart of the Adriatic Sea is there to stay … in every visitor's heart.