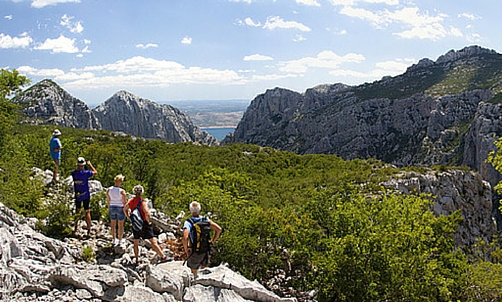 Hiking in National Park Paklenica
A bit of activity always adds a different dimension to a holiday - whether it's an adrenaline-filled adventure or simply a memorable walk in the park, it rounds up the overall holiday experience. National Park Paklenica is one of Croatia's favourite wonders of nature quite close to the seaside and excellent site for visitors who want to actively explore beautiful nature.
Why hiking
Hikers often need to catch their breath - partly because it's a form of physical exercise and, more importantly, because they often have to stop to admire the breathtaking views. It allows them to fully enjoy the benefits of clean, refreshing (mountain) air and to reconnect with nature in all its marvelous forms. It really is an excellent activity both for the body and the mind.
More experienced hikers might look for a challenge, a distance to cover, a peak such as Vaganski vrh (1757m) in NP Paklenica to conquer, but hiking is essentially quite simple and doesn't really require much. Didn't bring along hiking boots on holiday? Well, trainers will do for a stroll. Hiking is not about equipment or game rules and it's up to every hiker to decide where to go and how long to stay. And that's why it's the perfect choice for a family on holiday to spend some quality time together in nature.
NP Paklenica's charm
National Park Paklenica is a popular place both for occasional hikers and visitors who want to witness the pristine nature, but it also attracts advanced hikers and climbers. It is within particularly easy reach for visitors to Northern Dalmatia, since it's near the seaside and the motorway. Mountain and seaside all in one - can a holiday get any better?
The surface of the national park refers to the southern slopes of Velebit mountain which were declared as protected for the first time almost a hundred years ago. It's the oldest national park in Croatia together with Plitvice Lakes. The value of NP Paklenica lies in its forests which are home to various species of flora and fauna, some of which are endemic, and also in the amazing geomorphological shapes such as canyons (Mala and Velika Paklenica), rocks, caves (Manita peć) and pits. There are also several permanent sources of quality potable water such as Stražbenica, Kontinovo vrilo and others.
To be able to really appreciate the loveliness of nature in NP Paklenica, hiking is the best choice. There are several well-marked hiking trails which lead by and to various places of particular interest and their level of difficulty varies - from a light 1-2-hours-walk to a more demanding up to 7-hour hike to the peak itself. Some of the trails are at the same time educational trails where visitors can get more information about the national park and its specific features.
Sight(s) to see
National Park Paklenica is an excellent choice for visitors who love to spend time in nature, don't mind a bit or a lot of exercise and who want to enrich their overall holiday experience. In order to have a fulfilling day, it's important to plan ahead in terms of clothes, water and food supplies, approximate route to take and preferably to go with a friend or family. Since these are the moments to share and cherish with the people close to your heart.
Image source: rivijera-paklenica.hr