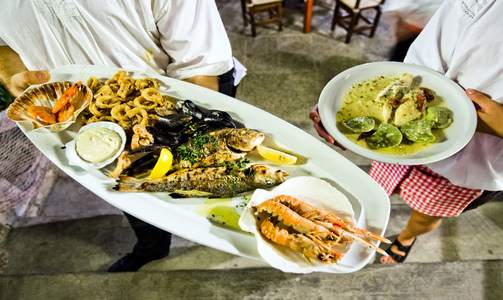 Top 5 Restaurants in Zadar Region
Dalmatian cuisine combines the very best of excellent. Famously healthy and delicious elements of typical Mediterranean cuisine include olive oil, fish, native herbs and spices, fresh vegetables, a moderate intake of wine to complete the heaven of taste. Equally irresistible although a bit less healthy are locally produced meat specialties, such as pršut or šokol - Croatia's finest authentic products. This is by no means a chance, since Croatians do know how to enjoy a good meal surrounded by friends and family. Here's a list of restaurants where visitors can eat well and have a complete holiday experience:
Pineta in Kožino
Mediterranean rhapsody is what awaits guests in restaurant Pineta in Kožino, a village between Zaton and Zadar. Dalmatian cuisine as well as excellent dishes prepared peka style are simply mouthwatering and even more so when enjoyed in the idyllic scenery. At weekends the restaurant also offers lunch specials for families, while its surrounding area is particularly kid-friendly. The restaurant is surrounded by pine trees, so kids can play on the playground in the shade or even try out their skills in the nearby adventure park.
Sokol in Nin
Run by the same family for more than half a century, restaurant Sokol in the historical core of Nin is a place where guests can try out traditional Dalmatian food, as prepared at home, as well as enjoy the view of the picturesque historical town. Specialties of the house include 'Steak Tartaro' as well as the inevitable šokol.
Bruschetta in Zadar
Just a few steps away from the promenade in Zadar, Bruschetta is a popular restaurant which celebrates the Mediterranean cuisine and respects the Dalmatian cooking traditions. Known for its excellent service and marvelous food, Bruschetta is also an example of a restaurant that cooperates with local food producers and uses the most exquisite olive oil in cooking.
5 bunara in Zadar
With 30 years of tradition, restaurant 5 bunara ('5 wells') has withstood the turmoils of time and remained one of Zadar's favourite hot spots for extraordinary dining. The restaurant has adopted the idea of 'slow food' which matches the Dalmatian lifestyle - it's a place where wonderful food is prepared and served with great care, so that guests can truly allow their palates to appreciate every element of a dish. As its name suggests, the restaurant is located by the Five Wells Square ('Trg pet bunara') near Queen Jelena Madijevka Park, which make it well worth a visit.
Foša in Zadar
Situated in the fortification facing the Land Gate ('Kopnena vrata'), fish restaurant Foša combines tradition and contemporary trends in cooking. Seafood cannot taste any better than served on a location by the sea. The view matches the amazing food on the plate and perfectly rounds up the wonderful culinary experience in Foša.
Cherry on top
Trying out typical local food has become an absolute must on any holiday- it gives visitors the enriching opportunity not only to enjoy authentic dishes, but also to learn more about the culture of the country they visit.