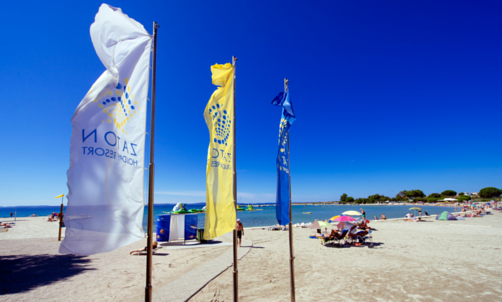 Why is Zaton's Beach the Best in Dalmatia
A holiday - time to rest and move away from everyday routines. A definition most people would agree with. What the actual holiday should consist of, though, is rather personal and varies from one individual to another. Still, people who opt for a beach holiday are bound to look for the very best spots by the sea and hardly anyone can resist the inevitable beach at Zaton Holiday Resort, one of the best ones in Dalmatia. Here's why:
Optimal location. As its name suggests (Cro. zaton means 'bay'), the resort is situated in an equally named bay which means that it's sheltered from the elements that might spoil a carefree stay on the beach - strong winds that can ruffle the sea and bring large waves or currents that might cool down the water by a few degrees. Indeed, smooth swimming in Zaton is the rule rather than the exception.
Great water quality. The resort has an excellent reputation when it comes to water quality, which is continually high. It really is hard to resist a swim in the refreshing clear blue water. Since the water is shallow and deepens slowly and gradually, non-swimmers can equally enjoy splashing as people looking for a place for a serious swimming exercise. In fact, generations and generations of kids learnt how to swim precisely in Zaton. Parents can even let professionals do the job, since a swimming school is available at the resort.
Beach for all tastes. The extensive beach allows anyone to find the perfect spot and to spend an entire day by the sea. It is mostly sandy, while a part of it is also pebbly - just perfect for families with (smaller) children who can build sandcastles and decorate them with pebbles for hours on end. The pet friendly beach is easily reached and is adapted to facilitate access for the disabled persons.
The shade. It is not just any shade. The pine trees around the beach do not only provide the perfect shelter from the heat and the sun, but they also produce a unique and refreshing scent no one ever forgets. There's nothing better than to read an excellent book or listen to some music while carelessly lying on a deck chair in the cool shade. Deck chairs are, naturally, available for rent as are sun umbrellas, for anyone who wishes to be closer to the shore.
Amenities. While sand and water can keep kids entertained the whole day, the resort makes sure everyone has plenty of fun by offering so much more than just what's there already - from water slides, inflatable water bouncers, trampolines, icebergs to water-ski, pedal boats and slides, jet ski, banana boat rides etc. To take a break from water, play a game of beach volleyball while the kids conquer the playgrounds. Also, hunger and thirst are never an issue in Zaton with restaurants and snack bars available.
The beach at Zaton Holiday Resort is by far among the best ones in Dalmatia and in Croatia in general, as evidenced by the Blue Flag eco-label. It really has it all - nature, clear water, all services imaginable available and a guarantee of a great time. It's the kind of beach, once found and experienced, you'll always come back to. And the beach will be as you remember it yet improved, but always for the better.