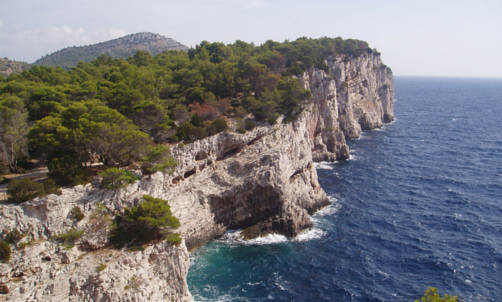 Islands of the Zadar Archipelago
A hidden cove with crystal clear water and a beach with abundant shade for anyone to take shelter from inescapable sunrays. A picturesque village where time seems to have stopped and where a fisherman might prepare some fish right in front of your eyes. The traditional way. Fish caught that very dawn. It's heaven - it's a dream come true for all fans of sailing. It's Zadar archipelago and its numerous, simply magical islands and islets that administratively gravitate to Zadar. From uninhabited to populated, from green to bare, from large to those inconspicuous on the map, the islands have excellent sites just waiting to be discovered by a chance visitor.
The best of … the largest
Dugi Otok island, as its name suggests ('long island'), stretches for some 40 kilometres with a wealth of beautiful coves and beaches such as the famous sandy Sakarun beach. Veli Rat lighthouse on the northern side, Strašna peć cave in the middle and Telašćica Natura Park facing Kornati National Park on the southern side are its well-known landmarks. Alongside Dugi Otok extend two islands- Pašman and Ugljan. Also referred to as the 'green island' or 'the garden of Zadar', Ugljan has kept its role of a quiet place for rest since Antiquity. At the same time, fans of cycling love its lookouts with extraordinary views and the cycling routes that extend to Pašman across a bridge connecting the two islands. A holiday with all contemporary comforts is equally available as the Robinson Crusoe- style on these islands.
Escape on the smaller islands
In between Ugljan and Dugi Otok, in the so-called 'Middle channel', lie islands of Rava and Iž together with dozens of smaller islands. Sailing in between these islands and islets and exploring their coast is just thrilling, while the picturesque villages on Rava and Iž represent perfect spots for anchoring. With olive groves as a distinctive landscape feature, these islands are true haven for those looking for peace and quiet.
Northwards of Rava and Iž, there lie other charming smaller islands such as Sestrunj, Molat, Ist, Premuda, Silba, Olib and many more, each unique in its own way. With very little, even hardly any, settlements, these islands have preserved their pristine nature with only little human interference. Truly beautiful to explore both along the coast as well as the rich underwater world, time seems to have stopped on these islands. Cars can be hardly seen while cycling, diving, windsurfing are favourite pastimes. Taking things easy (and slow) simply comes with the territory there.
Pristine and peaceful, but…
While spending holiday as far as possible away from 'civilization' can be truly relaxing with a touch of adventure, families with children might find it a bit challenging, as ferry lines operate mainly once a day particularly to smaller islands. Sailing is probably the best way to explore the amazing islands and islets, while those who prefer to stay on the mainland can opt for day trips to visit an island or two of their choice. Simply because they are worth the trip.