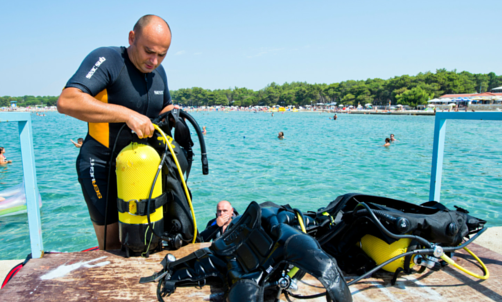 Diving in Zaton and Vicinity
Numerous historical sights and wonderful nature are well known features of the Croatian seaside. Interesting places to see aren't only available on land, though - the underwater world also hides many hidden gems just waiting to be discovered. Ranging from sunken ships to caves, walls and reefs embellished with diverse and wonderful species of flora and fauna, divers can explore various amazing spots along the coast and some of the best ones are quite near Zaton.
Diving sites near Zaton
Numerous islands of the Zadar archipelago do not only represent a paradise for sailing fans but are also excellent diving locations. One day trips filled with diving excitement can, therefore, add a note of adventure to anyone's holiday. Some of the most popular diving sites in this area include the following:
Situated northwest from Zaton, the island is famous among divers for the so-called 'Cathedral', a diving site where they can admire caves, holes and a tunnel combined with the most amazing play of light imaginable. It's among the best diving sites in Croatia where divers swim with octopuses and spider crabs. More experienced divers can also explore the sunken Szent Istvan battleship.
Dugi Otok island is another great diving location since sites such as Golubinka on the actual island as well as many smaller islands and rocks nearby (e.g. Mežanj, Golac, Bršćak, Lagnići) are great for exploring the underwater world. Divers get to see caves, reefs, walls paired with abundance of animal life and plants.
Beauty of Kornati islands lies both above and below the sea surface, and the untouched underwater world is a real sight to see. There are 9 zones where diving is allowed, with Rašip as one of the most popular sites in the Adriatic Sea in general. Reefs, walls and shoaling of fish and sightings of other species are just breathtaking.
A popular diving site close to Zaton is Idula island (north of Ugljan island) which is excellent for beginners and less experienced divers who can simply get the feel of what diving is all about - exploring the fascinating underwater world.
NOT ONLY for Professionals
Unlike sports and other fun activities that are undertaken on land and require only a court or field, a piece of equipment and a bit of good will, diving or, more precisely, scuba diving does require some training. Teens and adults can turn diving into their hobby while on holiday by taking a course and then crown their stay by attempting a few dives. A less demanding option is to go snorkelling, which is an excellent pastime for everyone and doesn't really have a training- and age-related limitations. Still, snorkelling means staying on the surface and, consequently, some of the best sights remain out of reach. Scuba diving course can be conveniently taken at Zaton Holiday Resort, allowing the guests to acquire a skill and use the opportunity to fully appreciate the extent of beautiful nature and sea in Croatia.