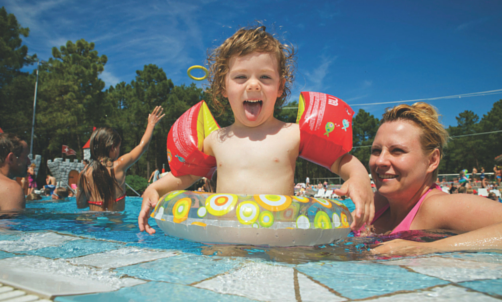 Fun for Kids in Zadar Region
A family holiday at the seaside can be very fulfilling, since sharing lovely, unforgettable moments brings the family closer. While the beach and sea, and nature in general give the children plenty to explore and enjoy, at some point they might ask for a different kind of entertainment. That's why it's wise to search for a few ideas even before arriving at the destination.
Take up a hobby
Summer definitely is that time of year when kids are free of any obligations, but keeping them busy with a fun activity even for just an hour every day might prove to be an excellent choice. Why not let them learn or perfect their swimming skills, or even take a diving/snorkelling course which can turn out to be the challenge for a teenager. Why not work on patience skills by learning to windsurf or water-ski? Why not consider dancing, tennis or a preferred team sport, horseback riding, to name but a few suggestions?
Go cycling and kayaking
Action, action, action - that's what it's all about with children. Cycling is a great choice for every member of the family to enjoy. Taking a light or difficult, off-road or marked route, can be an excellent way to show the kids around, so that they can explore the area while being active at the same time. Another option is the kayak which gives them the opportunity to fully appreciate the sea and to catch the somewhat different view of land from the sea.
See the (fun) sights
Regardless of the kids' age, it is safe to assume that they aren't necessarily into the same things as the grown-ups. Therefore, while the parents might be curious to roam the historical streets of Zadar and Nin to learn about their history, for kids that can turn out to be a real bore. So, either go light with sightseeing, or choose sights that will awaken the interest in your kids, too. Take them to experience Greetings to the Sun and Sea Organ, let them climb the tower of St Anastasia's Cathedral, show them how to get some good luck by rubbing the legendary toe on the statue of St Gregory of Nin. Also, take part in traditional events such as the Millennium Jump which is excellent fun for kids and the whole family.
Be original
Holiday at the seaside and in a foreign country gives you the opportunity to try out things probably unavailable in your hometown. So, take the kids on a ferry or rent a boat and have a family exploration trip round the islands. Explore the Zadar hinterland by visiting a donkey farm or any other for that matter. Or embark on a real adrenaline adventure as a family and go to the adrenaline park in Kožino, near Zaton, or in Lika, where you'll get some refreshment from the summer heat at the same time.
Most importantly
Make sure your chosen resort has a wealth of activities available for kids of all age, whereby Zaton Holiday Resort is clearly the best choice. With various fun programmes and the help of Zatonino (the seahorse mascot), kids and teens can participate in numerous fun games, events, etc., take up a hobby, use playgrounds, play a game of adventure golf, and with watersports and water slides have all the fun in the world.