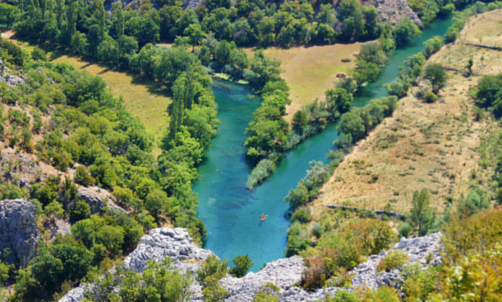 Discover Zrmanja River
Why consider a river while staying at the seaside? Simply because Zrmanja is worth it. With breathtaking scenery and refreshing water, a trip to Zrmanja river can be an excellent choice for the whole family and adventure seekers, who get to complete their holiday with unforgettable moments.
Explore Zrmanja
Zrmanja springs in southern Lika, at the foot of the Postak mountain, from where it flows 69 kilometres towards the seaside. The mouth of the river is near a picturesque historical town of Novigrad. The final 10 or so kilometres, from Obrovac and Novigrad are navigable, but only for smaller vessels. From Obrovac, it takes only four kilometres to get to Jankovića buk, which is Zrmanja's last waterfall. The river is not referred to as the 'hidden beauty' by coincidence - the wonderful carst landscape includes rocks, caves, cascades and waterfalls, a canyon. The mostly untouched nature is also an excellent home to a great variety of animal species and plants, some of which are endemic.
Zrmanja's most important tributary is Krupa, which represents a beauty in its own right. With cascades and waterfalls of many different heights and shapes, it creates a unique and impressive water symphony. Deveterac, or the 'Niner', is the name of a series of cascades that end in the 13m waterfall Veliki Buk, not far from a place where Krupa is joined by its confluent Krnjeza.
Be active
While the scenery alone is a sufficient reason to visit Zrmanja, a trip is usually paired with exciting activities. In fact, the best way to truly appreciate the river, particularly its upper course, and without any haste is by taking a kayak or canoe tour. Fans of adventure can also get a taste of adrenaline by trying out rafting, available throughout the entire year, apart from the summer months. Another option is also to hike the trails in the canyon, along and across the river. Zrmanja's lower course is best explored by a boat ride from Novigrad to Obrovac which takes the visitors all the way to Jankovića buk where they can take a swim in the refreshing water below the waterfall.
What else?
As you explore the river and/or its tributaries, you'll also have the opportunity to get to know the past and present way of life. In fact, places like Novigrad and Obrovac have an interesting story to tell. In addition, old water mills, which were once extremely important for local people, may have lost their function, but they are still a sight to see. If you happen to take a hike a bit further and explore Krupa as well, don't miss the bridge Kudin most. It is a typical stone bridge, the so-called suhozid, built by a young man who had to cross the bridge to get to his beloved, according to a legend. Near the source of Krupa there is also a monastery well worth a visit, dating back to the 14th century.
Delicious Zrmanja
Trips to Zrmanja and its tributaries are organized throughout the Zadar region, including in Zaton Holiday Resort. Needless to say, they usually include a meal which represents the finest of Dalmatian cuisine. In a few words, a trip to Zrmanja - simply irresistible!
Image source: commons.wikimedia.org