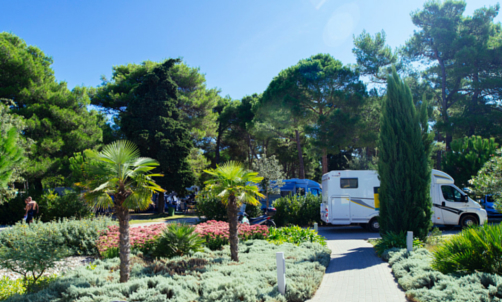 5 Things Every Camper Should Know
Camping is not only a choice of accommodation on holiday, it's practically a lifestyle. It reflects love of nature, adventurous spirit, wish to strengthen family ties and open mind to meet new people -fellow campers. With an excellent choice of services many campsites offer nowadays and a variety of useful, innovative gear available, camping is increasingly becoming easier and more fun for the whole family or groups of friends.
Even though unforeseen challenges are a part of the charm of camping, most people don't just decide on the spur of the moment, but rather make an approximate plan. Here are a few hints which it could be useful for campers(-to-be) to consider.
Finding the right campsite
Some prefer the refreshing mountains, for others there's no better way to spend a holiday than with a sound of waves in the background. Just bear in mind that while campsites can be found in different landscapes, it's generally no longer permitted to camp just anywhere the campers feel like it. Doing a bit of research about the destination and the campsites available is always a good idea - and it makes the decision-making process for the following points much easier as well.
Packing the right clothes
Packing different clothes clearly depends on when and where to the campers decide to travel. The selection of clothes is obviously different if they travel in the spring and opt for the mountains or if they prefer the summertime at the seaside. For example, the weather in Dalmatia during summer will most probably be sunny and warm, even hot, but occasional straying cloud with a few drops of rain is not entirely impossible, so packing a light cardigan or a jacket is always a good idea.
Essential gear
It is always wise to make a check-list of essentials beforehand keeping in mind the destination. A few things that no camper would leave the house without include: first-aid kit, a Swiss knife or other kind of multi-purpose tool, a set of dishes, personal hygiene kits and anything crucial to their comfort, particularly when it comes to sleeping. For a more extensive list, it is always wise to see what kind of services the selected campsite provides. The more services available, the less packing for the camper.
Food arrangements
Whether loading the car with food is really necessary depends on the facilities at the campsite. If a supermarket and greengrocer's are at hand, why bother piling food? Also, cooking your own food and eating whenever it best suits you has its charms, but in some campsites there might be the option to make half-board arrangements.
What to do
Admittedly, nature, clear sky above, the sea and beach (or the mountains) - it's all it takes for a relaxing holiday. While natural surroundings give (particularly the children) a lot to explore, additional fun activities, if available at the campsite, or sightseeing trips can only complete the picture. Again, that's why it's wise to check out the campsite and the destination in general prior to arrival.
Easy choice
Zaton Holiday Resort makes sure its guests have all it takes for their comfort. What is more, a variety of additional services is provided and this award-winning campsite truly is among the best ones at the Croatian seaside. Camping cannot get any better and easier than in the lovely Zaton bay, by the best beach and surrounded by the pine trees and Mediterranean greenery.