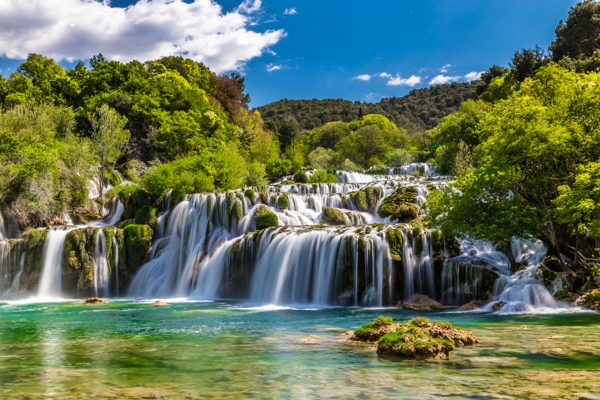 4 must-see national parks in wider Zadar region
Beautiful nature - one of Croatia's most important assets. The country takes great pride in preserved nature and its national and nature parks always form part of the must-see lists. Eight is the number of national parks and half of them are situated in the wider Zadar region, two of which are among the most popular ones in general - Plitvice Lakes and Krka. The other two, Kornati islands and Paklenica, are also places of extraordinary nature and worth a visit.
Lakes and waterfalls of Plitvice and Krka
It's practically impossible to decide which of the two national parks is lovelier. Plitvice Lakes National Park was founded almost seventy years ago and is one of the oldest national parks in southeastern Europe. Due to its extraordinary nature, it was designated a UNESCO World Heritage Site. As its name suggests, the national park is famous for its lakes, waterfalls and cascades with a dazzling array of colours not only of water, but landscape in general. Rich diversity of flora and fauna and cultural-historical heritage in the form of restored mills and sawmills that testify to human presence over centuries in the area complete the must-see tour of the Plitvice Lakes.
No less wonderful are travertine formations, ie the cascades and waterfalls in Krka National Park. Similarly to Plitvice Lakes National Park, the tour of the park includes educational trails which give the best insight into its abundant biodiversity, localities of cultural-historical value such as the complex of Franciscan monastery and church on the Visovac island as well as the restored ethnological monuments. Plitvice and Krka truly are among the most prized Croatian natural wonders as are Paklenica and Kornati islands.
Gems of the Adriatic Sea - Kornati islands
Famous Irish playwright George Bernard Shaw once said that ''On the last day of Creation God desired to crown His work, and thus created the Kornati islands out of tears, stars and breath." Indeed, such is the impression you'll get if you go on a panoramic flight over Kornati archipelago. It consists of round 140 islands, islets and reefs, more than half of which form part of the Kornati Islands National Park. Discovering the islands, enjoying the secluded coves and untouched nature of the mostly uninhabited islands, exploring the underwater world - Kornati islands are a dream come true for sailing fans, divers, fans of kayak and canoe, and lovers of nature in general.
Refreshment in Paklenica
Paklenica National Park serves as the perfect haven for anyone who wants to escape from the summer heat and it's so conveniently near the seaside nevertheless. The southern slopes of the Velebit mountain with its distinctive geomorphological shapes and forests as well as rich flora and fauna have been protected as a national park almost as long as the Plitvice Lakes. The Park is particularly popular with rock climbers and hikers, and it truly is an excellent spot for an active one-day trip to nature for the whole family.
Croatia's jewels
National parks Plitvice Lakes, Krka, Kornati Islands and Paklenica are true wonders of nature and a great place to start exploring the very best of Croatia.