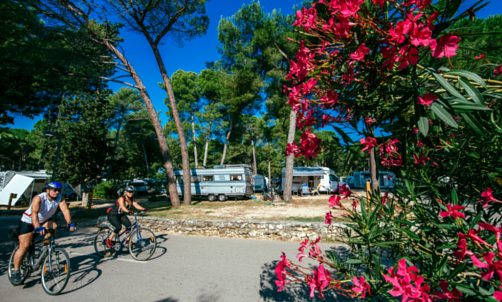 Getting to Know the Zadar Region by Cycling
A bike and a helmet, a few drops of sunscreen and plenty of water, and a bit of good will - that's all it takes to embark on a half-a-day or entire-day cycling adventure. In fact, it's becoming increasingly more popular pastime with Croatians, and an even more popular way for visitors to explore their chosen destination. Cycling trails are simply mushrooming, which means that getting around is also becoming easier.
Why cycling?
Being active enables holidaymakers to become fit and regain balance between body and soul, simply by feeling great. Holiday means there's no stress related to arriving on time, no deadlines, just plain cycling and enjoying the scenery. It's about taking a moment to stop whenever you feel like it to admire nature, smell a flower, have a quick swim to refresh yourself or to ask a local for a way, even if just to chat. It's about opting for environmentally friendly sightseeing showing your respect for nature and its preservation. It's about experiencing unforeseeable, bonding moments with family and/or friends, so unique and unforgettable.
Planning a cycling trip... or not
Cycling trips are generally quite simple and don't require particular planning. However, it's always advisable to decide on an approximate route beforehand, even if country roads and paths off the beaten track are a possibility and can be very tempting. It's always best to keep in mind the level of fitness, particularly if kids are cycling as well. After all, it's about actively exploring the region and not about breaking records.
Family cycling trip
Zaton Holiday Resort is a great starting point for a family cycling trip - even smaller kids can manage distances to Zaton (village) and Nin. Seeing the historical sights becomes so much better by bike! Another option are also the nearby villages such as the 900-year-old Petrčane, a charming village so representative of a fisherman's way of life. Meeting the locals and learning about how similar and yet different you are can be a very enriching and memorable experience. With older children, a cycling trip can even lead you to the island of Vir or you can head south and see the sights in Zadar.
Adventure seeking cycling
Cyclists in search of adrenaline will also be thrilled with a variety of options available in the Zadar region. Stage 2 of the recently held Tour of Croatia started in the lovely city of Šibenik and finished in Zadar. Why not follow their (bike) steps and go the other way around, even if it took a few days? Further challenges include cycling trails in Paklenica National Park, Velebit Nature Park, Vransko jezero ('Lake Vrana') as well as the islands of Pag, Ugljan, Pašman and Dugi Otok. Needless to say, the nature is breathtaking and views spectacular, even if it takes a bit more effort than just hopping on a bike and setting off.
Be active and relax
Having a great, relaxing time with family and friends - that's just what holiday is all about! Whether you decide to spend the whole day at the beach, visit places of interest to find out more about the region or do sports to be fit, it's entirely up to you. Still, cycling is one of those irresistible activities that add another dimension to your holiday. So, hop on a bike and bring out the explorer in you!