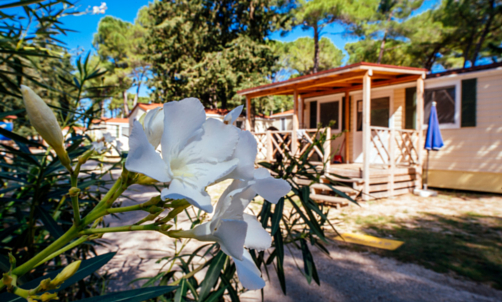 Perfect Mobile Homes in Zadar
Holiday is that moment in year everyone looks forward to, because it represents the necessary time-out from the stress of everyday life. Is there a better setting to enjoy the carefree time than surrounded by the green colour of nature - the positive colour of balance, harmony and optimism? Waking up so close to nature cannot but awaken all the senses - the buzzing sound of crickets, the refreshing scent of the pine trees, the sun and light breeze caressing the skin, the bright colours of sea and nature all around.
Comfort in nature
Spending a holiday in nature, which basically means most of the time outdoors, can be very fulfilling both for parents and kids. While the adults allow themselves simply to relax, the nature gives the kids plenty to explore and enjoy the joys of childhood. Reasons for which people opt for a holiday in nature are quite obvious, but there's no need to renounce comfort. While camping usually involves additional packing of gear and utensils prior to actual arrival, mobile homes are a convenient alternative, because they are generally well-equipped so extra packing isn't necessary. They basically allow holiday-makers to reach the destination, drop their bags and immediately start enjoying the lovely scenery around.
Discover mobile homes in Croatia
Mobile homes are an increasingly popular accommodation option for a holiday at the Croatian seaside - a bit more comfortable than camping in a tent, yet more personal than a hotel. Mobile homes offer plenty of privacy, but close to nature at the same time. More and more campsites in Croatia now include mobile homes as a form of accommodation for nature lovers, who prefer to keep the cosiness of home on holiday and at the same time experience the beautiful nature and sea and preferably stay close to places of interest.
The very best in Zadar region
If you're considering a mobile home for your next holiday and you have chosen Zadar region as your destination, then opt for Zaton Holiday Resort where the mobile homes truly are among the best ones not only in the region, but in Croatia in general. The air-conditioned mobile homes are well-equipped with satellite TV and home appliances for a comfortable stay. They are wonderfully blended in the surrounding garden area, so representative of the Mediterranean. Additional advantage is a spacious terrace with a roof and furniture, which gives you an excellent place for spending quality time with your family. Needless to say that all facilities and services at the resort are also at your disposal.
Perfect holiday in mobile homes
Holiday cannot get any better than by having the comforts of home and still being able to fully appreciate the advantages of staying in nature and spending most of the time outdoors. Mobile homes, like the ones at Zaton Holiday Resort, provide accommodation and so much more. With a variety of entertaining activities at hand and vicinity of Zadar and other places of interest, they are just the right choice for a fulfilling (family) holiday.