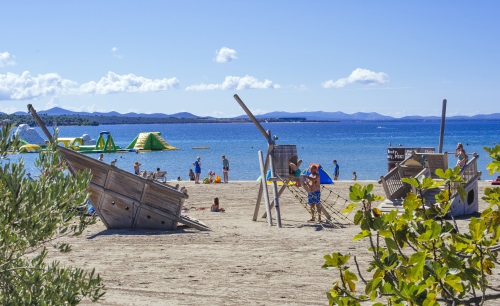 Nature and Beaches in Zaton and Vicinity
The sea is just a few steps away, the sun and refreshing breeze caressing the skin, above one only the pine trees which emit a specific scent... The lungs are filled with air, the heart is full of joy and the head is clear of all worries like the cloudless sky above. It's a picture of perfect holiday on the beach.
There's no better place to have such an experience than in Zaton and its vicinity, where the beaches cater to everyone's taste. It's difficult to go wrong since the water quality is generally excellent as are the beaches, regardless if they are sandy, pebbly or rocky, secluded or filled with the buzz of numerous activities available.
As blue as it gets
The beach in the Zaton Holiday Resort has been repeatedly listed as one of the top beaches not only in Dalmatia, but also in Croatia in general. It has been awarded a Blue Flag status due to its high water quality, services provided in accordance with environmental standards and safety. It truly is the perfect choice for both families with children and active holiday seekers. The former enjoy the mostly sandy beach where the shallow water is excellent for parents playing with their children, where they can build sand castles on the shore or play in one of the playgrounds. Even pets are allowed, since the beach has a designated pet area. Active holiday seekers make use of the many free time activities available: water fun and slides, beach volleyball and adrenaline sports. With the numerous facilities at hand and the pine trees providing an excellent shade to take a break from the heat, everyone can spend an entire day on the beach with plenty to do.
The queen of the beaches
A legend says that a particular sandy beach in Nin especially appealed to the wife of the first Croatian king, Tomislav. Hence the name of the beach - the Queen's Beach. With an impressive view of the Velebit mountain, healing mud nearby, shallow water allowing great family time on the shore, the beach is particularly apt for families with children. The entire lagoon in Nin is also very popular with wind and kitesurfers due to its good winds. With its 3 kilometres in length, the Queen's Beach in Nin is a splendid place for fans of pristine beaches.
Rich biodiversity
Not only are beaches in Zaton and Nin true gems for visitors, but the entire area is also home to numerous rare birds and animals species. The site has been protected as the Natura 2000 habitat, which obliges the authorities to take great care to preserve the nature and maintain the area protected regardless of the many visitors who come to enjoy it.
What's not to like
It's practically impossible to find fault with the Queen's Beach in Nin and Zaton's beach. The nature is amazing and the water quality excellent, the main difference being that the latter has a lot more facilities and activities available. As Shakespeare put it in his play As You Like It, 'I like this place and could willingly waste my time in it.'