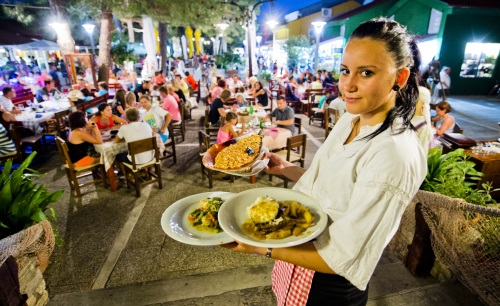 Dalmatian cuisine - health on the plate
There are three words to describe the magic of the Dalmatian cuisine and they are: fish, wine and olive oil. To be exact, these three sources of human health in cuisine and on the plate are combined with continental nourishment. Typical cuisine of this coastal region is listed high in the UNESCO Intangible Heritage List.
When staying in this magnificent part of Croatia, you should not miss the opportunity to try many delicious, nutritionally balanced dishes which include seafood, brodetto, risotto, goat and sheep cheese from Pag island, prosciutto from Posedarje, domestic lamb meat from Zadar hinterland and Pag island (two different aromas), turkey roasted under the lid, olives, marinated or salted anchovies, fresh vegetables, herbs, spices, Prisnac cake,... And while you enjoy the coast, remember to visit the hinterland of Zadar, because this is also the right place for active vacation, sightseeing and food treats.
Along with the food, you have to taste red and white wine of indigenous varieties, and the inevitable Maraschino liqueur made of native cherry (maraška) famous for its dark red colour and distinctive taste from the time of Napoleon.
Preserved tradition and modern creativity
Restaurants and taverns, regardless if they are situated by the sea or in the shade offer meals which preserve the ancient flavours of Dalmatian cuisine, nurturing the concept of healthy nutrition and creative modern gastronomy at the same time. Most restaurants serve international dishes, but why not use the opportunity to try something different, something local. Let your hosts introduce you to the unique experience of taste and flavor of local specialties, particularly fish and seafood. So, when visiting Zadar, all you have to do is walk into its old part, Varoš, and choose a restaurant that will treat your palate to a rhapsody of Mediterranean taste. Needless to say that restaurants in other towns nearby can also give you such an extraordinary culinary experience.
Don't forget the hinterland
Zadar's hinterland is well known for combining sea and continental food. Many delicacies come from Benkovac which is nationally known for domestic lamb meat - as well as the island of Pag, roasted turkey, sugared almonds and prisnac cake made of cheese which has its own show called Benkovački Prisnac Festival. A fine compound of agriculture, production and gustation at one place can be found at various rural farms open for visitors. Plantations of figs, olives and vineyards, wine cellar and olive oil production is both - a sight to see and remarkable experience. While there, don't forget to taste locally produced wines. All in all, one could say that in one go you can connect gastronomy, archeology and souvenirs gathering in e.g. Benkovac, Polača and Pakoštane (Pakoška uljara, Vrana, Asseria, Šopot, Masvin).
Something sweet for you
If you feel like having something indigenous, taste fritule and kroštule, or order cakes with specific ingredients from that region - carob, fig or curd from Pag. All chefs like preparing sweet delicacies with these ingredients because they are typical for Zadar. But, if you ask them for more suggestions they will work their magic and make something with apples, dried figs, oranges, almonds and prošek also adding a drop of balsamic vinegar. Extra specialty is varenik, made of grapes, having sweet-sour taste but not easy to find. If you taste varenik, consider yourself lucky because it is scarce.
Irresistible dining and wining
Enjoy the coast, but do not neglect Zadar's hinterland and countryside. All in all, there are many places where you can experience active vacation, educational sightseeing and fine gastronomy. Be also prepared for a slight weight gain, no matter how active you are, because specialties of Dalmatian cuisine are, in a word, delicious and once tried, you won't be able to get enough of them.