Happily busy on a family holiday in Zadar region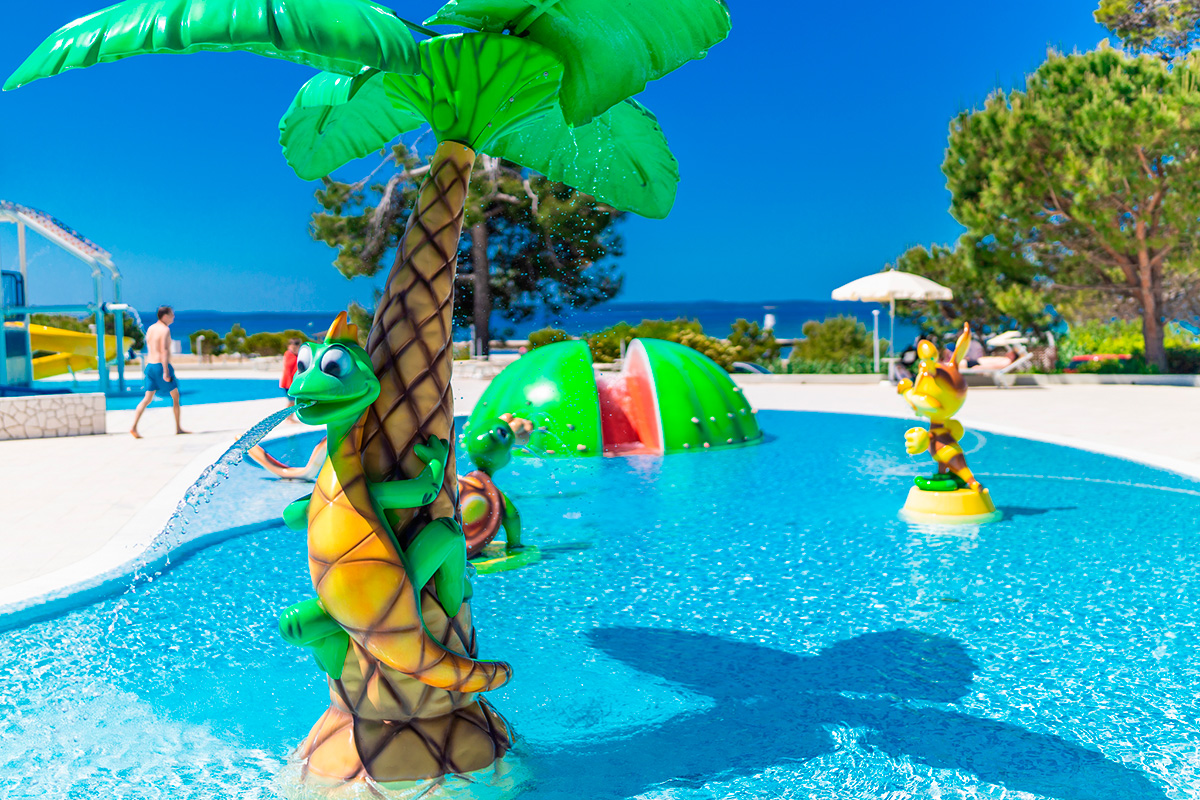 A beach? Check. Swimming pools? Check. Fun activities? Check. But that's not nearly all. Zaton Holiday Resort together with the Zadar region can be one massive playground for your children and family on the whole. All you have to do is pick your activities and have a field day!
Exploring the resort
Free as a bird! Large in size and in greater part car traffic-free, Zaton Holiday Resort provides your children with a safe place to discover. Maybe they'll want to play on the playgrounds in the campsite, beautifully arranged eco-spots or climbing nets on the beach. Or they might wish to ride their scooters or bikes along the paths across the property. Let them become explorers in the beautiful Mediterranean surroundings.
Exploring the activities
Endless fun for kids & family! Select activities you can do all together for quality family time. Also, encourage your kids to take up exciting hobbies and pastimes on their own.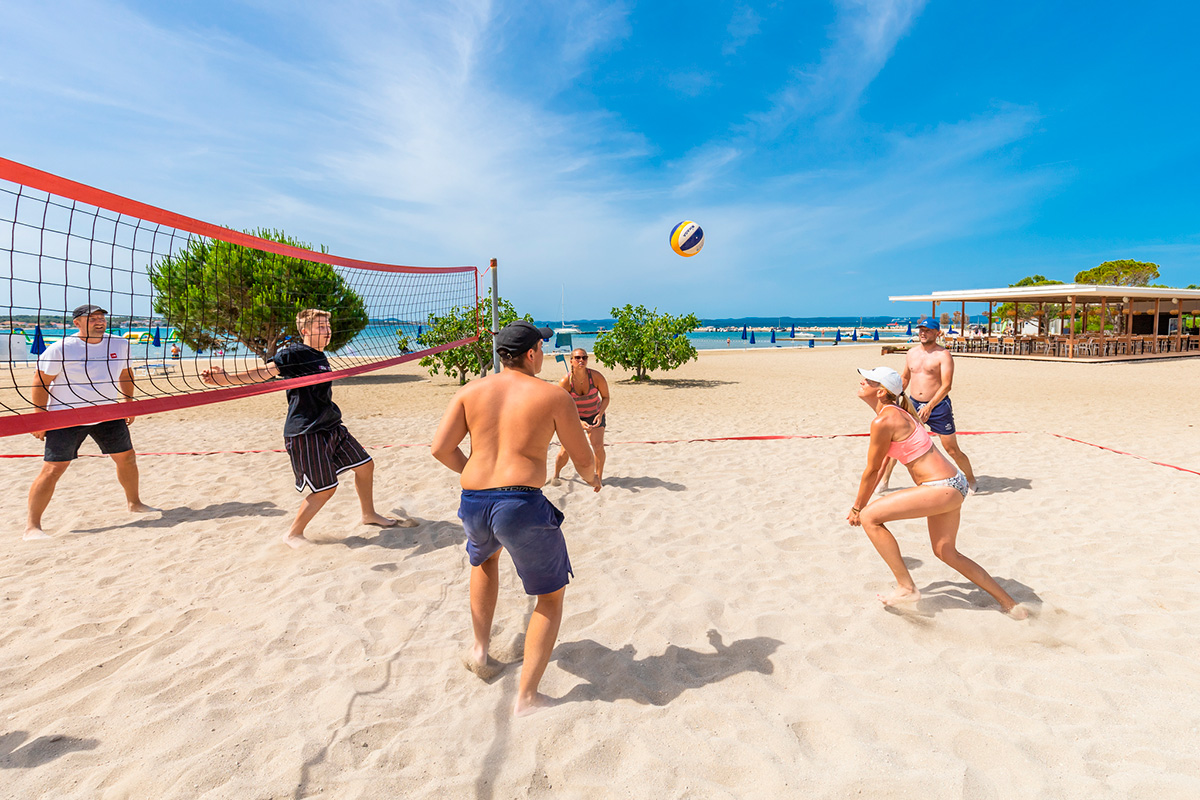 Family pastimes. Use the opportunity for special moments in a stress-free environment! Head to the Flip Flop Activity Park for a game of mini golf and a round of archery. You can also give the favorite Dalmatian pastime, boccia, a try, and check out other exciting activities at disposal there. Another fascinating option is the science park on the eastern side of the beach, available as of June 2023.
If your family is competitive, why not also have your own mini sports contest in e.g. table tennis or beach volleyball? After all, the resort offers a wide variety of sports amenities for ready use. Similarly, the beach and the pools are an excellent source of good times, both for the whole family and its individual members. From splashing in the pool complex to kayaking, SUP-ing and thrilling banana rides on the beach, you won't be able to get enough of water fun.
Zatonino Kids Club and Beach House. Great joy and amazing moments with peers and our friendly mascot also awaits your children at the resort! Namely, our fluffy seahorse Zatonino is the main guide for various activities for children. Be it crafts and workshops, races and contests, special performances and musicals at the open-air theatre, your child is sure to have a great time with Zatonino.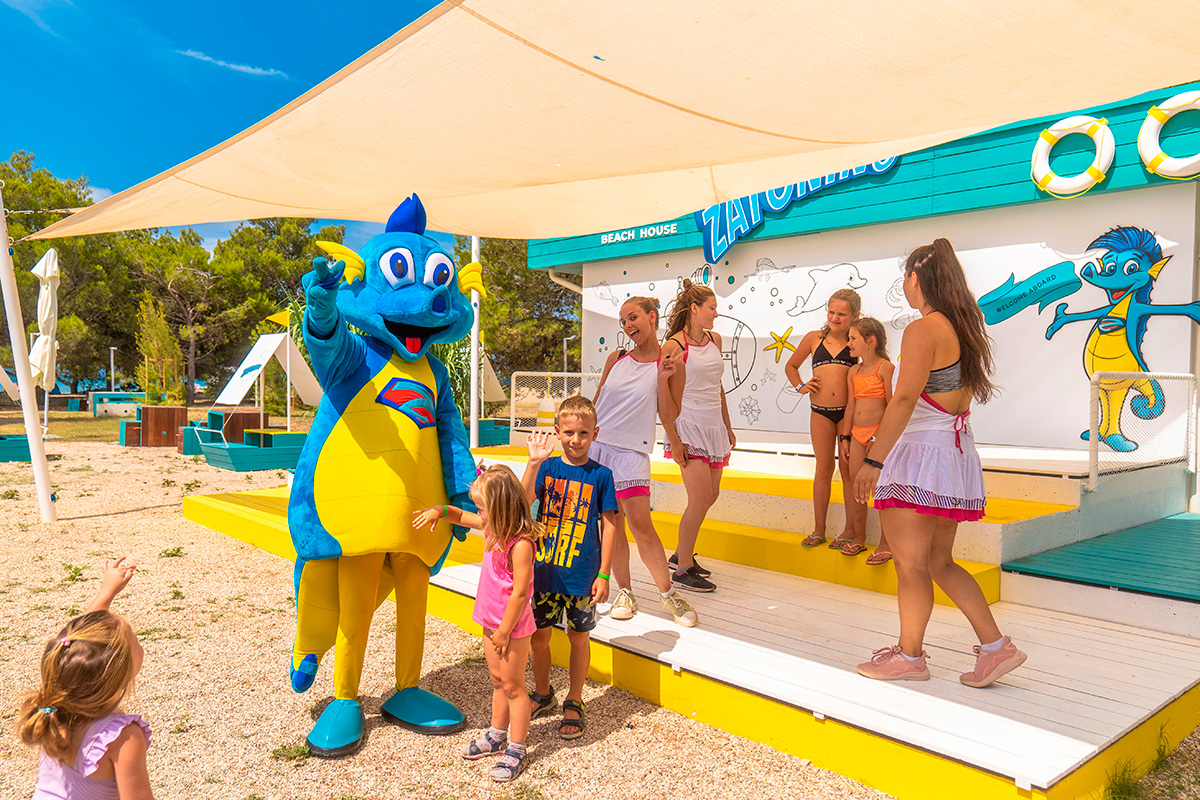 Exploring the region
Just to mix it up a bit! Why not go for a family bike ride to Nin and nearby villages? How about boating around the islands of the Zadar archipelago? Or you can plan a family trip - be it to the cities of Zadar and Šibenik, or to wonders of nature such as national parks (Paklenica, Kornati, or in the wider area - Krka and Plitvice Lakes), nature parks (Telašćica (Dugi otok island) and Vrana Lake) as well as the Zrmanja river. There's a rich choice to consider, with many trips available from the resort. So, just think about what your family members like and make it happen!
Never-ending joy and good times
Stress-free beautiful environment in the Zadar region? Yes! A choice of pastimes and hobbies for everyone at Zaton Holiday Resort? Yes! Feeling happily busy on your holiday? Absolutely!