Pool and beach at Zaton Holiday Resort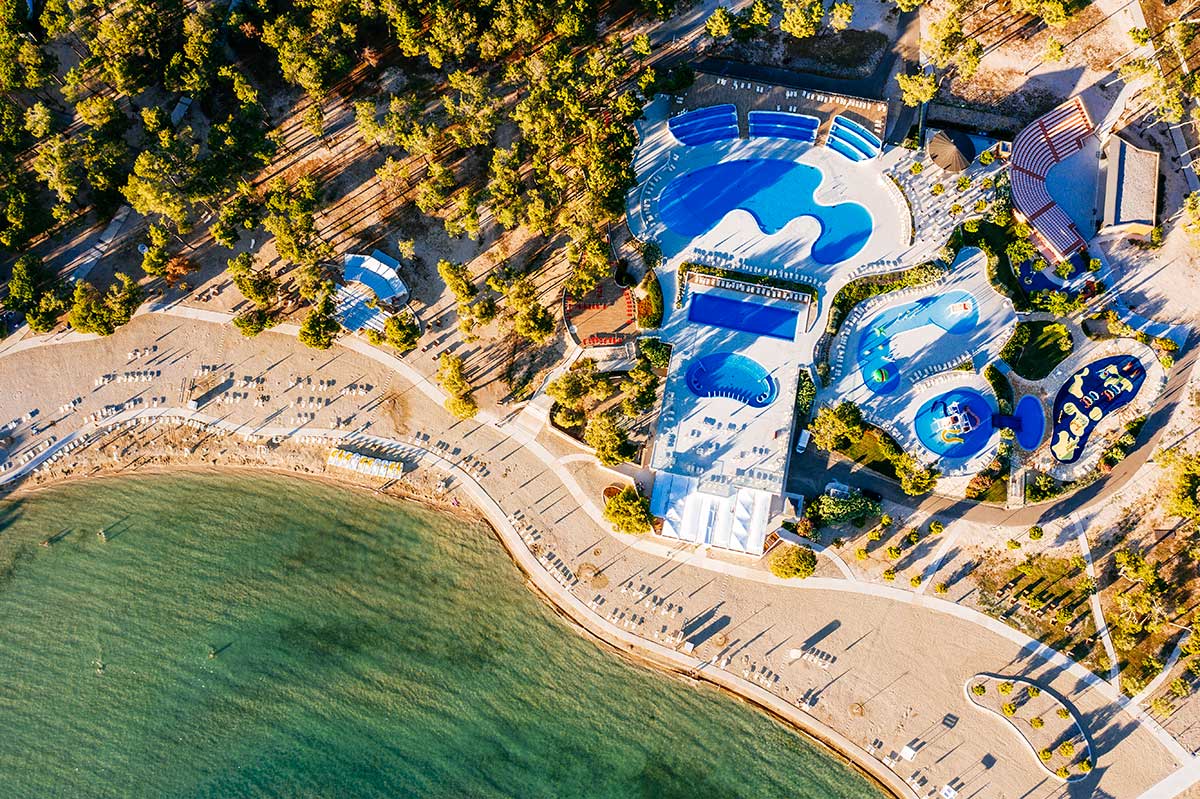 What is your favourite summer image? Splashing in the water and sipping refreshment under a sun umbrella at the pools? Or having fun in the shallows and lounging in the shade listening to waves washing the shore? Regardless of your choice, at Zaton Holiday Resort there is no need to pick one or the other. Simply because you cannot go wrong with either.
Fabulous pools
Among the most impressive ones in the wider Zadar region. Used exclusively by resort guests, the complex caters to all generations, since it consists of pools of various sizes and depths.
Fancy a swimming workout in a large pool? Enjoying the view of the sea while you're having a hydro massage in a pool? Watching your kids having a laugh with water attractions, slides and a spray park? The swimming pool area is an excellent source of water fun, while also offering an extensive sun deck where you can lounge and sunbathe. There is a pool bar where you can have your favourite refreshments as well.
Want your children to learn how to swim and hone their skills some more? Then let them take part in the Zatonino Swim Academy available on the spot, every day except Saturday at 10:00.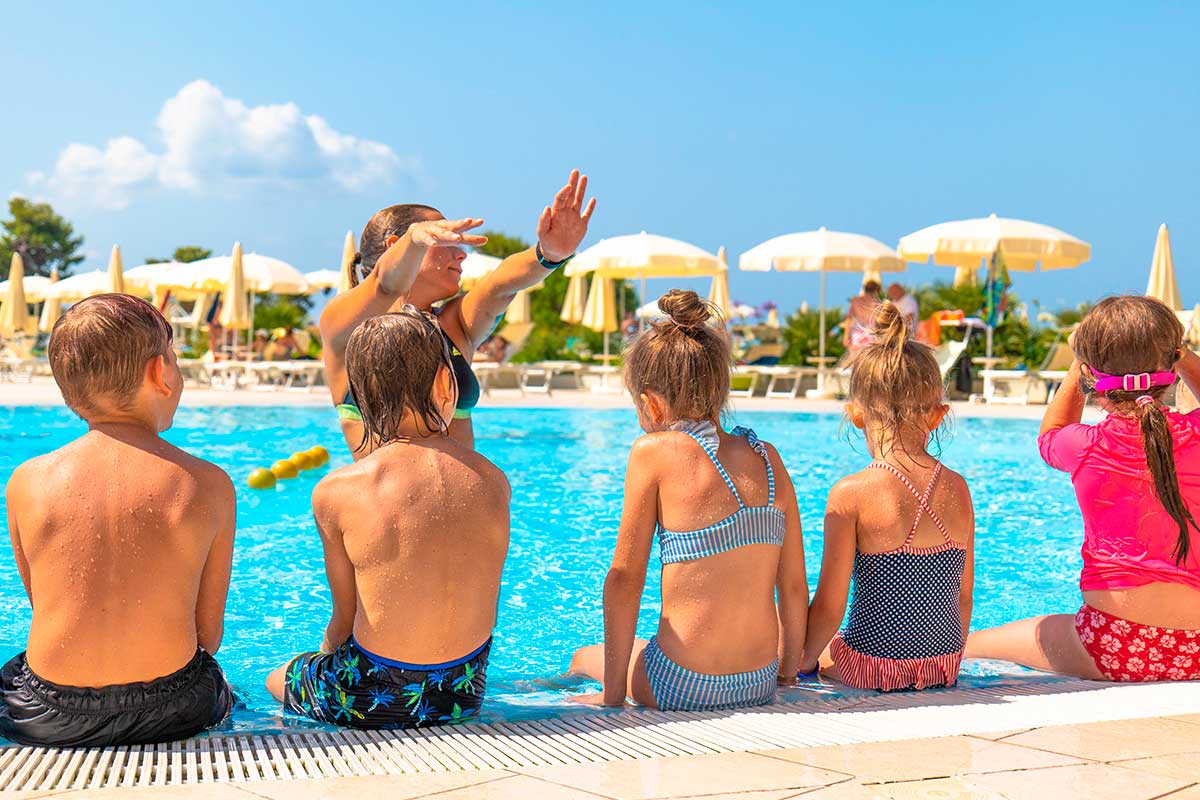 Get ready for a (pool) party time! Water inflatables, music by a DJ, performers, lights and pure fun - a perfect mix for a summer party held at the pool complex every other Thursday at 21:00 o'clock. The last one this season will take place on August 25.
Amazing beach with a Blue Flag label
One of the finest in Croatia. The mostly sandy and partially pebbly beach with access for people with disabilities is an ideal choice for families with children and active-holiday seekers. It has a stretch of shallow water where children of all ages can safely play and where you can give 'picigin' (traditional Dalmatian ball game) a try. With a length of 1,2 km, the beach gives you plenty of space and natural shade to find you perfect spot to relax. Regardless where that is, you can be sure to have a restaurant or a beach bar nearby for a snack or refreshment. You can also meet and have fun with our fluffy mascot at the Zatonino Beach House.
Apart from the fun you can have playing on the shore, swimming and snorkeling, there is a wealth of activities to choose from. Let your kids enjoy themselves on the inflatable water park or get a different perspective of the beach from a pedal boat with a slide, a kayak or an SUP board. For a rush of adrenalin, you can also go water- or jet-skiing, parasailing or on a ride with a tube and banana boat. Should you feel like doing a bit of workout, join in the aqua aerobics, play a round of beach volleyball or football while your kids climb an elaborate set of climbing nets nearby.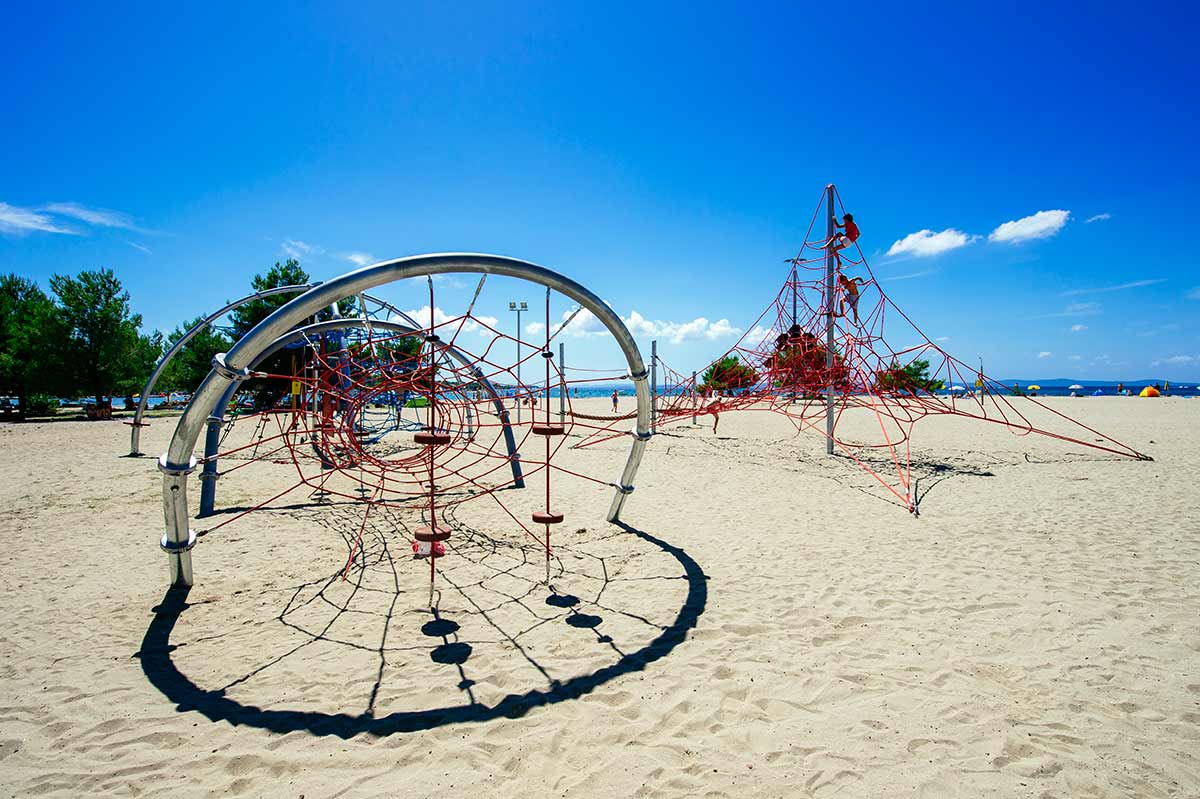 The beach is also a popular place for events. So, check out the event calendar and join in the good times, be it a Zatonino Race, the thrilling obstacle course Zaton Extreme or live musical performances under the starry sky at the Beach Restaurant & Bar Mareta and Cocktail Bar Val.
Just pure summer fun
On the beach. And the pools. After all, when asked about the common summer dilemma 'pool or beach', know that at Zaton Holiday Resort there is no wrong answer.