Open-air theater magic at Zaton Holiday Resort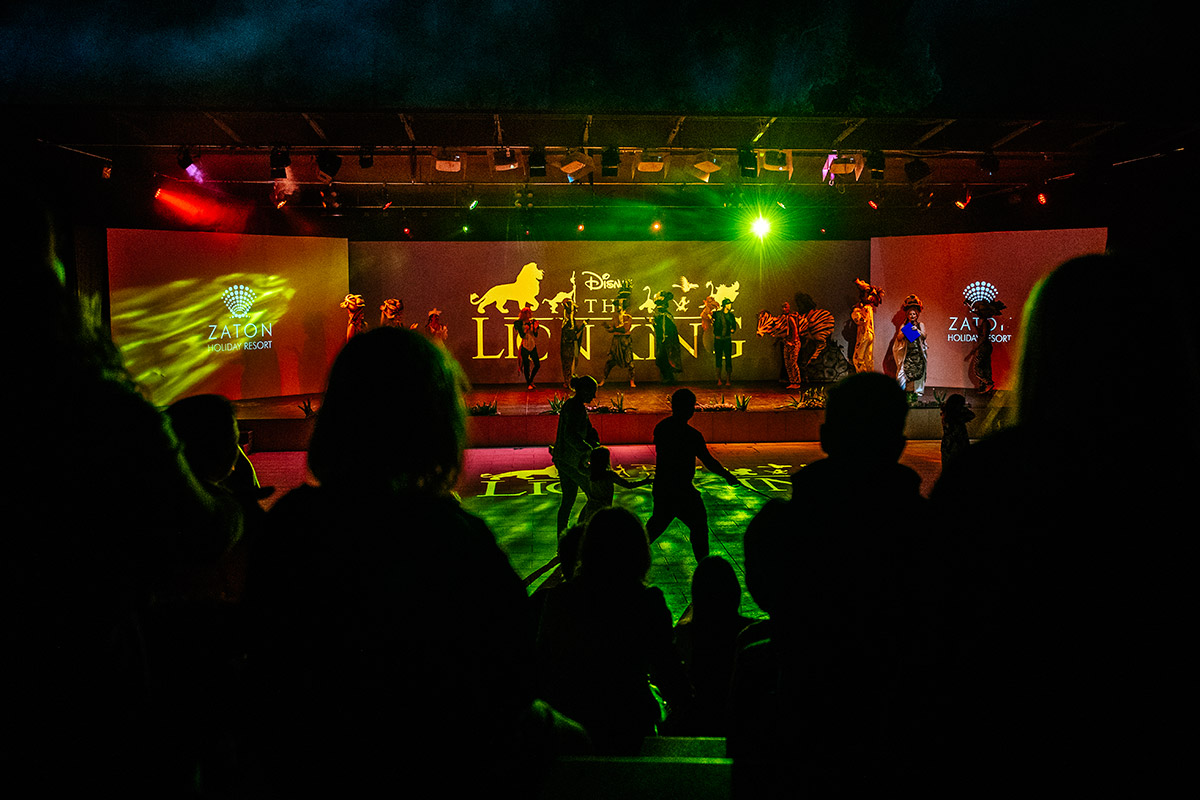 Setting the scene for unique moments to remember… shiny bright stars may be twinkling on the clear night sky, but it's the theater lights before you that captivate your attention. Enjoying a show, a musical, and a performance out in the open can be one of the highlights of your summer, especially when experienced at Zaton Holiday Resort. Here's what it's all about:
Taking central stage
Right where the fun happens - all day long! The theater is located next to the swimming pool complex and the Flip Flop Activity Park, places where you have your share of amazing moments throughout the day. Then in the evening it's time for some magic.
The open-air theater can hold as many as 700 spectators. Practically every evening, all summer long.
State-of-the-art theater technology
Join us in our stories and journeys to amazing places! The theater is equipped with the latest technology which adds that special something to the performances. The recent features introduced include new stage setting, 3D mapping projections and state-of-the-art video technology. So, watch the amazing stories come to life in a unique setting.
What to look forward to in 2022
Let's get the show(s) on the road! With musicals, cabaret, games nights and parties, you are in for fun evening entertainment on a daily basis.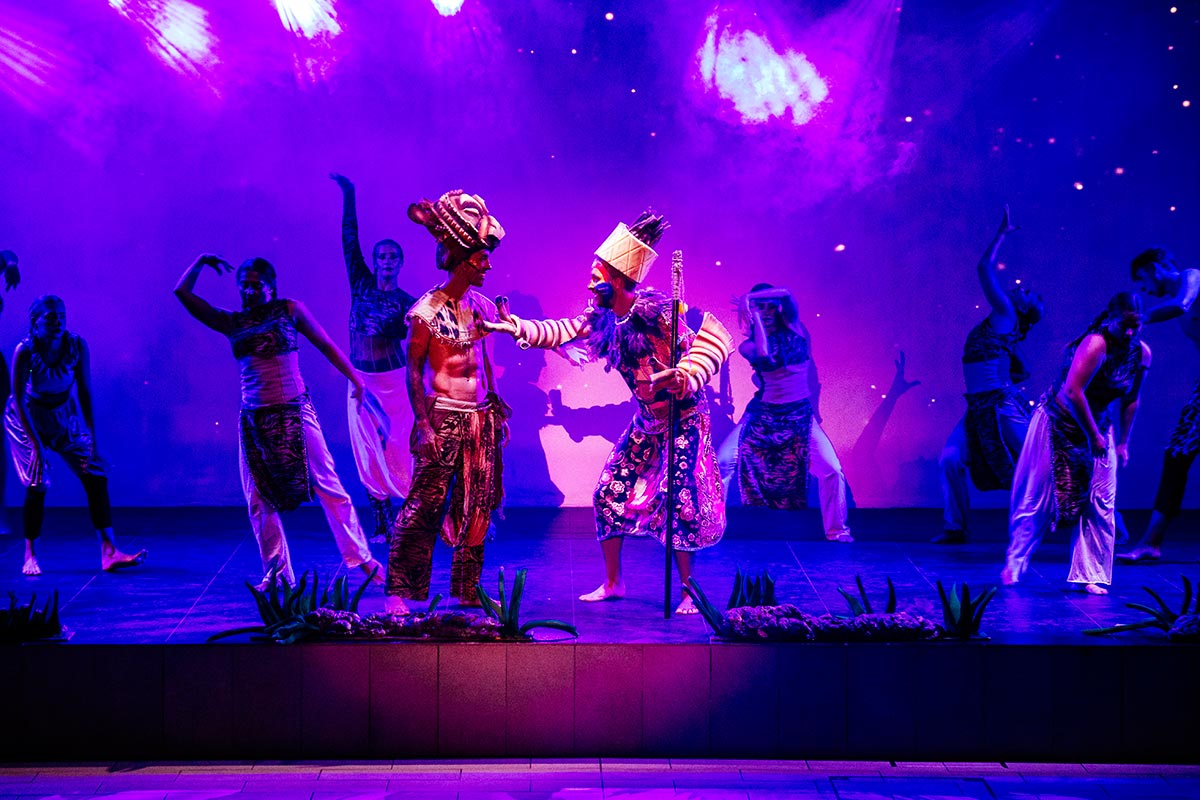 Premiering this year… the Musical Descendants! Surely you're curious to follow the adventures of children and heirs of famous Disney characters, from Snow Queen to Cruella, as they take on the world. Also, hop on the magic carpet with Aladdin and join him on the ride to a whole new world of beautiful stories. This year's show includes new choreography and the music from the original Broadway musical and the Aladdin movie.
In addition, we encourage our young guests not only to watch, but also star in our mini musicals. Naughty or nice, popular Disney characters invite your children to join them on the stage with Buoni e Cattivi. Why not embark on an adventure with Zatonino in his quest for Pirates Treasure across the world as well?
Zatonino Pirates Treasure won't be the only show run by our fluffy mascot. Namely, he intends to throw his birthday bash every other week, so your family is cordially invited to his party for some cake, fun and dance.
Laugh your head off also as you see a day out on the beach through the eyes of a lifeguard with our Cabaret Show. And discover the talents our entertainment team has, be it dance (with or without fire), singing or magic. Zaton's Got Talent gives you the opportunity to showcase yours as well.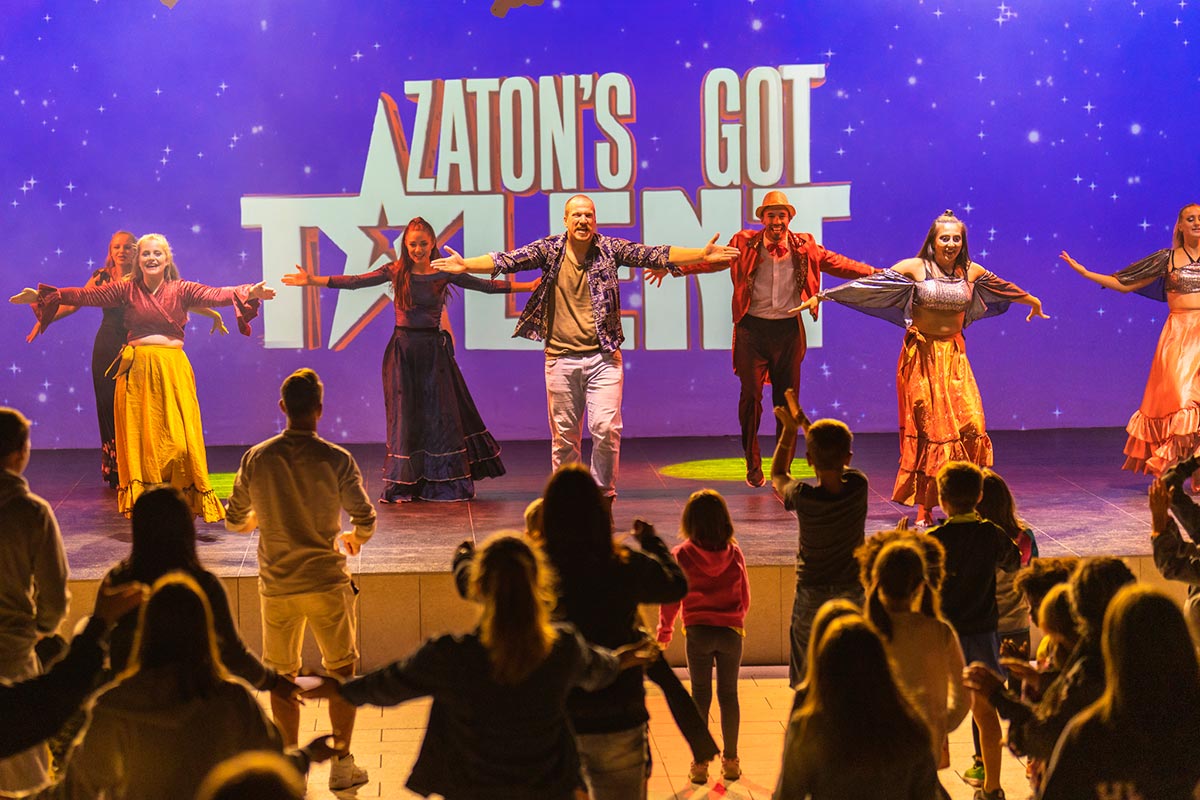 These may all be hard acts to follow, but there's more. Our theater is the place where you can enjoy a good game night, take part in A Minute to Win It or simply round off a lovely summer day with a movie night out in the open.
Magical fun
C'mon, let us entertain you! Enjoy our fabulous shows at the theater with Disney characters, Zatonino and our talented entertainment team. Then, as our performers take their bow, you'll wish for more. And they will gladly deliver. Because the theater at Zaton Holiday Resort is an endless source of evening entertainment, a place where magic happens under the starry sky. All summer long.