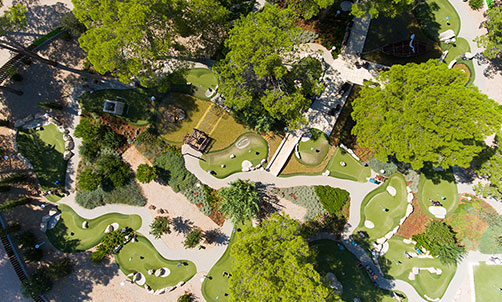 Flip Flop Activity Park in Zaton
Summer! A word is enough to take your thoughts to a sandy beach or swimming pools, splashing water or sunbathing, slowing down in the shade or non-stop action. When it comes to the latter, Zaton Holiday Resort is a place where active holidaymakers can aim high if they want to become or stay fit while having a great time. Here's how you can keep happily busy on holiday in Zaton at Flip Flop Activity Park in the eastern part of the resort, next to the swimming pool complex:
Mini driving school
Let your kids buckle up for the thrill of driving! They not only learn how to operate a mini vehicle, but also how to behave in traffic. After all, paying attention to other drivers in traffic, signs, stopping at red and going at green is extremely rewarding. Particularly, when it includes a bonus ride for doing everything right.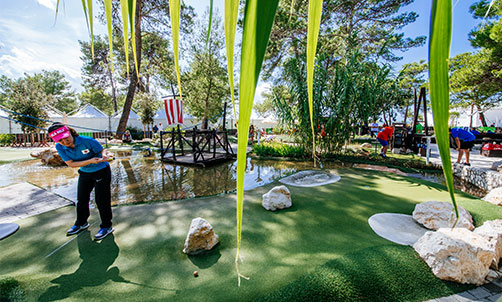 Mini golf for mighty fun
Roll the ball into the hole! Rise to the challenge and become a mini golf master on three different types of mini golf courses. Try your luck and skills by playing adventure, miniature and felt-golf and … ace it!
Let the good times roll with boccia
When in Dalmatia, do as the Dalmatians do! So, play boccia, one of the most favourite pastimes on the coast. It may seem that playing this game does not require much effort, but you sure need some skills. It's great fun for all generations, so let your boccia ball roll just as you laugh with joy.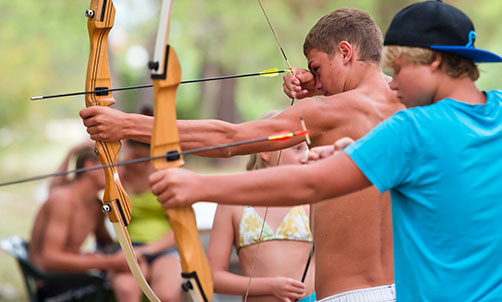 Aim at archery
Let the arrow fly into the bullseye! Like in mini golf, put your hand-eye coordination and patience to test and challenge your family members to a competitive game of precision. So, draw, aim and release for fun times at the archery range in Zaton!
Smashing tennis
Backhand and forehand, what's that all about? Well, now's your chance to find out! At Zaton Holiday Resort you have the opportunity to take up tennis or to brush up your skills if you already have some basic knowledge with the help of a trainer. The ball is in your court, so what are you going to do about it?
Ping pong fun
Strike, spin, smash! You don't really have to be a table tennis enthusiast to enjoy the fun of playing it outdoors, in the cool shade. So, grab a racket, strike the ball, count to eleven and then several times so.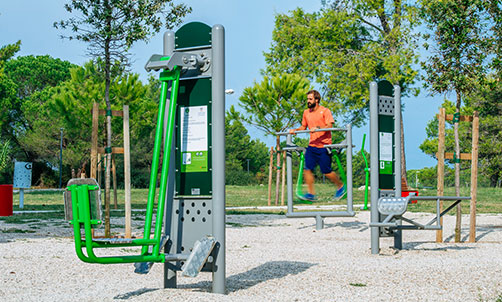 Keeping in shape with outdoor fitness
Commit to being fit! Doing exercise has never been better than at the resort, since you now have the chance to do it outdoors, surrounded by refreshing Mediterranean greenery. So, tone your muscles and do your workout, even if going to the gym is not normally your thing.
Flip a coin…
To choose what you want to do first. Every member of the family can find their joy at the Flip Flop Activity Park in Zaton, which keeps inviting you to some action. So, test your skills, face the challenge, form a team and have a mini competition and, most importantly, enjoy the fun moments!