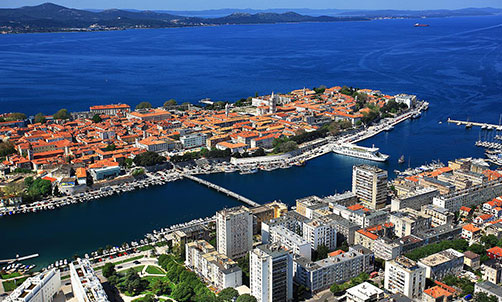 9 Things Zadar Region is Famous For
Some are delicious, some extraordinary, others breathtaking. There are a number of things that make you think of Zadar (region) when someone mentions them and here's a selection of a few must-see and -do's while staying there:
1. There can be only one … Zaton
Did you know that there are a few villages called Zaton in Dalmatia? But to be honest, only one really springs to mind - the one with the fabulous beach known as one of the best destinations for a summer holiday on the Adriatic coast - it's Zaton between Zadar and Nin.
2. The most beautiful sunset in the world
Sunsets by the sea are truly special, but there's something about that display of colour as the sun sets in Zadar (region). So, let it set the scene for your unforgettable romantic moments!
3. Love from the air - Galešnjak island
Apart from the sunset, Zadar region is also known for its 'island of love'. Namely, Galešnjak is a small island situated south of Zadar and it has the shape of a heart, which can be best appreciated from air.
4. Great variety of breathtaking nature
Zadar region has it all - breathtaking sea with countless islands such as Kornati island group, mountains (Paklenica NP), rivers such as Zrmanja and Krka (in wider region) and lakes like Vrana Lake Nature Park or Mir near Telašćica Nature Park. Wherever you look and go, just take in the amazing nature around you.
5. Unique modern attractions
Zadar and other smaller towns in the region, such as Pag and Nin, are great places to follow the traces of history. However, there are two modern attractions that keep topping the lists of must-see sights in Croatia and they are Greetings to the Sun and Sea Organ in Zadar. These majestic attractions are man-made masterpieces that interplay with nature for a unique sound and light performance.
6. St Donatus' Church and Kalelarga
When you hear about St Donatus or see an image of the muffin-shaped church, you cannot but think of Zadar. Similarly, Kalelarga is one of the most famous streets in Croatia and a true symbol of the city.
7. Church of the Holy Cross, Nin
Sometimes referred to as 'the world's smallest cathedral', the Church of the Holy Cross from the 9th century is also special because it was built in a way that it can be used as a kind of a sun calendar. Every year, the Festival of Sun and Light celebrates its magic.
8. Salt production
Traditional craft of salt production has been present in Zadar region for centuries, even millennia. Both Pag and Nin are famous for its salt, but the salt works in Nin also give you the opportunity to see the production process as it once was and get unique and useful souvenirs in its shop.
9. Zadar region's delicacies
Try a slice of šokol (traditional pork meat product from Nin) or a piece of Pag island cheese. After all, they are not just another meat and dairy product. The secret of their production has been passed on from generation to generation not to mention the fact that the climate, such as the famous bora wind, also plays an important role in the process. Similarly, Maraschino is a liqueur made of marasca cherry, native to Zadar region. So, don't miss the delicious taste of original products!
And much more…
Explore Zadar region, discover its history and tradition and enjoy its modern attractions and culinary delicacies. But also make a list of your very own Zadar region favourites, regardless if they are well-known or if you come across them off the beaten path. One thing is for sure, Zadar region is a truly exceptional place for a great holiday.
Image source: https://goo.gl/NJmWLQ