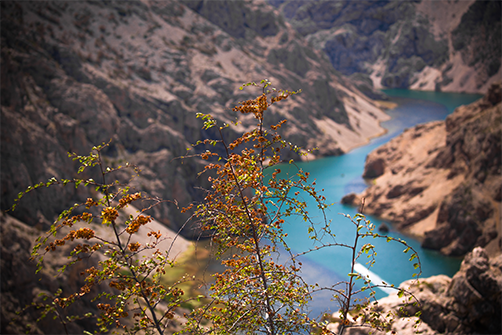 Off the Beaten Track - Less Famous Attractions in Zadar Region
Zadar with its Church of St Donatus, Roman Forum and modern attractions Greetings to the Sun and Sea Organ. The ancient Croatian royal town of Nin. Cascades and lakes of Krka National Park. Forests and geomorphological shapes of Paklenica National Park. Untouched islands of the Kornati group. Travellers who have already been to Zadar region must have already enjoyed the sight of many, if not all of them. After all, they are the favourites among visitors to the region.
Still, there's so much more to see and experience. So, if you're looking for excitement of discovery, fewer crowds and unique holiday moments, check out a few suggestions:
Zadar's curiosities
Read about the city's legends, take a boat ride from the historical peninsula with barkajoli and find out the story behind a sphinx, the largest in this part of Europe. Go to the city's market and just watch the typical Dalmatian interaction between locals or find a shade from the summer heat in the almost 2 centuries old Jelena Madijevka Park. Don't forget the museums - informative or simply fun, let them complete your Zadar experience.
Fun in Nin
Nin may be a small town, but it had a major importance in early Croatian history to which various statues and Museum of Antiquity testify. Still, it's also a place where you can try out first hand the craft of salt production at Nin's Saltworks and have a truly unique holiday experience. Or get muddy. Why not have fun and cover your body with healing mud not far from the famous untouched Queen's Beach?
Explore Novigrad and Zrmanja
Why not also discover Novigrad, a picturesque Dalmatian village, and its traditional architecture? Climb the hillock with castle remains and enjoy a magnificent view of the bay. From there go on to explore Zrmanja river and canyon - on a photo safari, canoe or raft for extraordinary time in nature.
Hop on the islands
Be active and cycle or hike along the trails on Ugljan island, known as Zadar's garden. Take a moment to absorb the green colour of its numerous olive groves and Mediterranean greenery. Similarly, visit the island of Pag not only to enjoy its lamb meat specialties and Pag island cheese, but also to see numerous birds in their natural habitat - Velo Blato reserve. Fans of active holiday might also like to hike to St. Vitus peak.
Traces of Templar Knights
Follow the footsteps of Templar knights in Vrana, close to Vrana Lake Nature Park. See the remains of their town from the 12th century and 17th century Turkish inn named Maškovića han. Even better, come and see Vrana Knights Days with historical representations of medieval tournaments.
Make it count
Cultural-historical attractions and wonders of nature make Zadar region an exciting place to visit and explore. So, swim in the beautiful sea, hike or cycle to the lookouts for amazing views, enjoy untouched nature, discover the legends and curiosities of towns and villages, and make your holiday experience so much richer.
Image source: Croatian Tourist Board, Author: Ivo Biočina