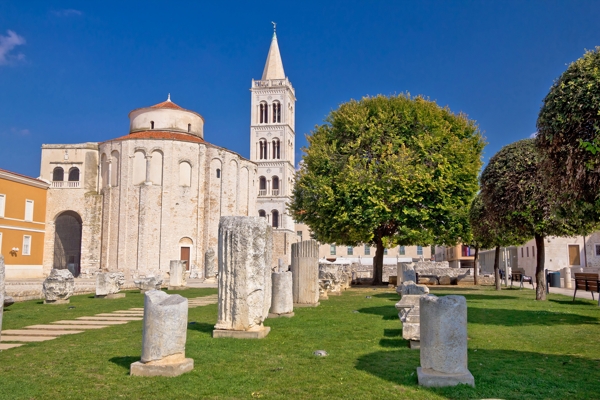 Choose Your Top 6 Cultural-Historical Sites in Dalmatia
Famous for its well-preserved nature, wonderful seaside with numerous islands, Croatia also has rich cultural-historical heritage. In order to understand the history and lifestyle of people in Dalmatia, places of interest give the visitors an insight into history and culture of Dalmatia and, in a way, lead to better cross-cultural understanding.
Some of the most remarkable examples of cultural-historical heritage have made it to UNESCO's list of world heritage sites, while others remain important for Croatians in general. Here is a list of a few must-sees in Dalmatia, from north to south.
1. Historical town of Nin
Nin used to be the most important settlement for early Croatian kings and religious institutions, even though nowadays it has a size of a village. Its historical peninsula, churches such as St Nicholas' Church or Church of the Holy Cross, statues of Duke Branimir and Gregory of Nin, Museum of Antiquity are true treasure chest of early Croatian history.
2. Zadar's historical core
Zadar is a true gem of European and Croatian history. To name just a few inevitable attractions, there are the remains of Forum which used to be the central meeting point for ancient Romans, Zadar's most famous landmark St Donatus' Church as a symbol of early Christianity and historical street Kalelarga which is older than the city itself according to a legend.
3. Šibenik's cathedral and fortresses
St James' Cathedral from the 15-16th century, which is a remarkable piece of architectural art, has been on UNESCO's list of world heritage sites since 2000. Recently, the city has also started revitalizing its fortresses such as St Michael's fortress, not only because it's a magnificent historical monument, but it has also become a place of particular cultural interest.
4. Split's palace and its neighbouring city, Trogir
As an amazing example of preserved original urbanization, Trogir as a historic city has been a part of UNESCO's list for almost twenty years. Founded by the ancient Greeks, Trogir is even older than its more famous neighbour, Split. Visitors to Croatian's second biggest city can easily imagine what life was like during the ancient Roman rule by walking around the historical complex and Diocletian's palace, also listed as UNESCO's world heritage site.
5. Island of Hvar's attractions
One of the most popular Dalmatian islands, Hvar has attractions that date back centuries, even millennia. While visitors mostly admire historical monuments in towns of Hvar and Starigrad, it's the plain just outside of Starigrad that has made it to UNESCO's list, since this agricultural landscape hasn't been changed since the Greek times.
6. Dalmatian gem - Dubrovnik
Referred to as the 'pearl of the Adriatic', Dubrovnik is most visited Croatian city. Thousands and thousands of visitors flock the city every year to admire its historical streets and well-preserved monuments of ancient times. The Old City of Dubrovnik has been on UNESCO's list for almost forty years.
A (hi)story of Dalmatia
From charming Nin to modern yet ancient Dubrovnik, cultural-historical sites along the Dalmatian coast tell a story of Croatian and European history. They illustrate the way Dalmatia has changed as a region over the years along with its people and culture. So, learn about the historical sites in order to get a better understanding of Dalmatia.
Image source: https://goo.gl/8gQQl3