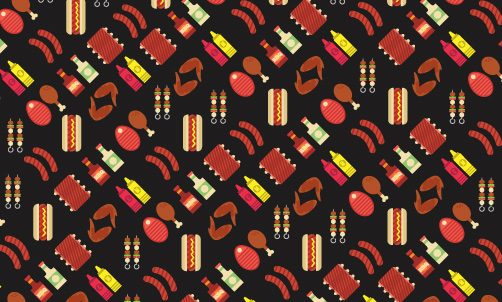 Eat & Rest - 6 Ideas for Quick Camping Meals
Awoken by the sound of crickets, you step out of the tent or camper, take a deep breath of refreshing morning air and say 'hello' to another lovely day. These are one of many precious moments of a camping holiday, just as spending the whole day outdoors surrounded by nature. Even food tastes better when continually dining outside under the pine trees.
While camping is adventure in itself, preparing the dishes doesn't have to be, so here are a few suggestions about how to spend less time getting the meals ready and more time enjoying them:
1. Breakfast without any kitchen use
Campgrounds such as Zaton Holiday Resort have a bakery on the premises. In other words, it takes just a few-minutes of morning walk to get hold of freshly baked pastry and bread. Just combine it with a good cup of coffee and .. breakfast is served.
2. Panning it out
Why not start the day with a morning treat or finish it with a late one? Make some pancakes - it's simple and fast, and impossible to single out any member of the family who doesn't like them, simply because everyone can choose how to make them even better by adding anything to their liking - from chocolate spreads and marmalades to cheese and vegetables.
3. Play with eggs
An egg is an excellent ingredient for quick camping meals. From simple omelettes to those that are enriched with healthy additions (e.g. vegetables) and those that are less so (e.g. sausages), eggs allow campers to prepare a quick meal any time of day. Some dishes, such as Spanish tortilla with eggs and potatoes as basic ingredients, can even be kept in a cool place to be eaten later on.
4. Go wild with fruits
Summer is that time of year when fans of fruit have a field day. Also, it's quite easy to find a great variety of fruit that is locally produced. So, pick a fig from any tree, refresh yourself with a watermelon, or even better, make a fruit salad which is an excellent snack any time of day. If you prefer meat to fruit, why not, for example, add a bit of prosciutto to a melon for a change?
5. Vegetables rule
And so does pasta. In other words, use your camping holiday to choose quick, yet healthy meals that are easy to prepare and can be eaten also the following day. For example, combine different seasonal vegetables with pasta to get those refreshing salads or go for cheese instead. Such meals are highly nutritious, refreshing and simple to make.
6. Say yes to BBQ
Campgrounds such as Zaton Holiday Resort have areas designated for barbecuing. Now, to prepare a barbecue meal, it might take a while, but it's definitely worth it. From meat, veggie skewers to fish, barbecue meals are great fun to make and even better to eat. Speaking of fish, a holiday in Dalmatia should definitely include some of it, and grill is an excellent choice.
Camping well, eating well
With modern facilities available at campgrounds such as in Zaton, camping fans have at their disposal all it takes to cook any meal. But there's nothing better than to grab a quick yet healthy and refreshing bite outdoors and take a relaxing nap in a hammock tied between two pine trees or in a beach chair. Simply because you can.
Image source: Background vector designed by Freepik