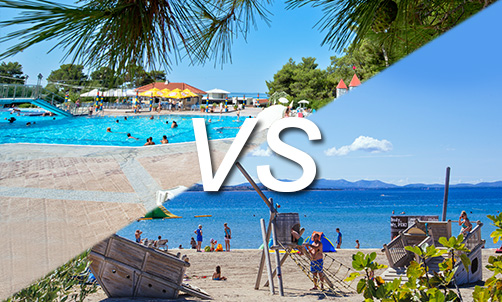 Which is Better – the Beach or Pool in Zaton?
What is a summer holiday without a great beach to spend a carefree day? Or without a pool to have some splashing fun? These are one of the essential ingredients for having a relaxing time in the summer. So, how to choose between the beach and the pool? With a place like Zaton Holiday Resort, you don't have to decide which is better, because both options are equally great and here's why:
The one and only… Beach
Among other things, Zaton Holiday Resort is widely famous for its beach - it's one of the best ones in Dalmatia and on the Croatian coast in general. Apart from the great water quality, it's situated in a bay which gives natural protection from the rough sea. Even though you probably don't have access to such a beach all year long, if at all, in your hometown, these facts won't matter to children who are more interested in the things they can do there. And there are so many, indeed! From slides, climbing iceberg and jumping centre on the water to playgrounds on the shore, there's quite a lot to choose from to keep the children entertained. The shallow water also allows them to play freely, search for funny pebbles and shells, build sandcastles without having to worry about waves ruining their work.
So, the beach basically invites people of all generations to be active in and out of water, to walk those 1,5 km of Zaton beach barefoot and to engage in some competitive games, such as beach volleyball. Still, if you prefer simply to relax, then nothing is better than to lie on a deck-chair listening to the soothing sound of waves hitting the shore. Then, there's the sunset to round up amazing holiday moments. And Zadar region is particularly famous for its magnificent sunsets.
Stay cool by the pool
At Zaton Holiday Resort swimming pool area is a place of great fun or, in other words, where various entertainment programs and shows take place. First of all, both the big pool and the kids' pool have different structures and slides which give everyone a chance to enjoy water - from babies and children to teenagers and adults. In addition, the water is heated which means that the pool can be used in case the sea is a bit too cold to swim. Again, there are playgrounds and sandlots nearby as well as a massage centre for the ultimate relaxation. In addition, the snack and cocktail bars are at hand, although they are not far from the beach either.
Go for … both
In a place like Zaton Holiday Resort beach time completely matches pool time. After all, it's about getting a deck-chair and a beach umbrella, finding some shades under the pine trees, listening to water splashing and simply relaxing by (not) being active. Be it the beach or the pool - as long as you feel cool, on a hot summer day.