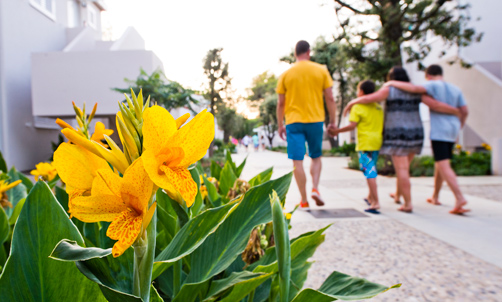 Choose Family Special(s) in Zaton
The best beach in Dalmatia with things to do both for kids and grown-ups. Fun swimming pool and playgrounds all over the resort. Sport courts and a dedicated animation team to guide the fun. Zaton Holiday Resort truly is a place where a holiday dream comes true for any family, where children are kept busy and entertained and parents feel truly relaxed.
But things can, in fact, get even better in this amazing holiday destination in Dalmatia, since the resort has prepared a real treat for families coming for a holiday - the Family Special offer.
Choose where to stay
Don't you just love the scent of the pine trees and lavender in the air? To spend the holiday camping surrounded by nature in a mobile home or a glamping tent where all the modern appliances are at hand and there is no need to worry about extra camping gear to pack? The same is true for modern holiday apartments, which are another option included in the Family Special offer. No matter what you decide, you can count on finding home on holiday at Zaton Holiday Resort, where your family can enjoy private moments when you wish so and create lasting memories.
Choose what you eat
With accommodation in a mobile home, glamping tent or an apartment, families can keep their daily routines, and do everything just as they would at home. Still, the Family Special also includes a half-board service, in other words in the morning you'll get to choose from a buffet just the kind of breakfast you like and in the evening, you will round off your perfectly spent day with a great meal without doing the washing-up afterwards. What's even better, the half-board service comes at the cost of bed & breakfast. In addition, the kids will be thrilled with the pizza lunch and the Zaton ice cream cup just as the parents with their Zaton cocktail, all of which is included in the offer.
Choose your fun
With the Family Special the family can try out the mini-golf and see the sights at the same time, since the course has representations of Zadar region's most famous landmarks. Besides that, every member of the family gets to choose from a variety of fun activities to do, guided by the friendly animation team. With beach and pool fun, (water) sports, recreation to kids and teens' clubs, it really is impossible to feel bored at Zaton Holiday Resort.
Choose Family Special (time) in Zaton
If you've already been to Zaton, you know what to expect and that the sweet-talk matches what you get. If not, now is the perfect time to plan a 7-day (or more) retreat to one of the best destinations for a family holiday in Dalmatia and wider. Treat your family with a stay in Zaton Holiday Resort's mobile homes, glamping tents or apartments, because of the beach, playgrounds, animation program, nature and because they will make sure your Family has a real Special time there.