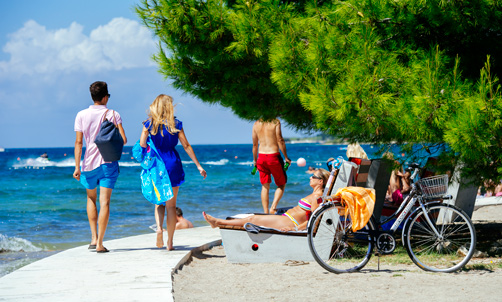 Romantic Getaway to Zaton
One of the best ways to experience the amazing display of colours as the sun seems to dip into water in the distance is with your beloved by your side. And did you know that one the most beautiful sunsets in the world is the one in Zadar region? Naturally, the sunset is not the only romantic thing couples can enjoy there. So why not treat yourself and surprise your dearest with a romantic getaway to Zaton? Let it be the place to share special moments in two and rekindle the spark in your relationship!
Have a 'summer in pair'!
For lovebirds who want to get away from everyday worries, spend some time relaxed by the sea enjoying the fresh air, but at the same time get to have some 'just the two of us' moments, Zaton Holiday Resort has prepared a wonderful treat - a special offer 'Summer in Pair'. Starting from early May and all the way to late September, couples can opt to spend a week of their holiday in 3- or 4-star apartments without a care in the world - with half-board included in the price and beach gear at disposal, with everyday entertainment programs for all age groups, couples can truly look forward to spend some enjoyable time together.
Pair it with fun
Going on a trip and changing the scenery, taking the time to spend a few days together and shifting the focus away from daily petty grievances can work magic on any relationship. Once in Zaton, a couple can simply relax and enjoy all that is available - from massages and body treatments to other, more energy-filled activities such as water sports, in which both can participate and create lasting memories. While choosing such a holiday might seem like a never-ending date, don't forget to really have those - on the beach, in a restaurant, or simply in the privacy of the apartment. Explore the lovely Zadar region and go on a trip to Kornati, Paklenica or Krka national parks, visit Zadar and Nin, feel inspired and share the emotion with one another.
Say it ...with a vehicle
Choose a road trip to reach Zaton, have a stop every here and there for a meal or to admire an interesting scene. Or decide to fly to Zadar airport so as to start your romantic getaway as soon as possible. Once you get to Zaton, rent a bike and discover the beautiful nature all around together or surprise your dearest with a sailing trip around the islands.
Say it … with a romantic holiday in Zaton!
Show your appreciation and surprise your significant 'other' by deciding on a summer holiday for just the two of you! With no worries and all the time in the world to spend quality moments together. Use the opportunity to enjoy a relaxing holiday at Zaton Holiday Resort, and share special, romantic moments, create new memories and make your bond even stronger. Most importantly, remember to laugh together, because you'll have plenty of reasons to do so.