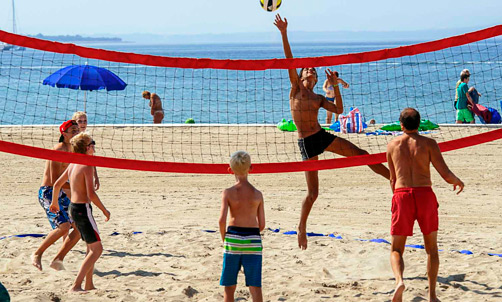 Do Sports in Zaton
Refresh yourself in the sea. Wipe off the sand after playing beach volleyball. Try your luck at one of the most favourite Dalmatian pastimes - a game of boccia or hop on a bike to explore the coast and hinterland of Zadar. Use the many available options at Zaton Holiday Resort, do sports and stay fit. Take care of your body and mind and have a relaxing, fulfilling holiday. Here's what awaits you:
Team or a solo player?
Feel like going for an early morning run? Or doing a workout in the gym? While some alone time can work magic on the mind, so can a team sport played in a relaxed holiday setting. After all, it's not about keeping score but staying or becoming fit and having a great time. Team sports allow you to meet new people, celebrate good points and have a laugh at an occasional awkward move. Even if you like cycling and want to use the opportunity to explore the region and be active at the same time, the whole experience is so much more rewarding in the company of other family members or friends. The same is true for a (table) tennis match, a game of boccia and even mini golf - you'll need at least another person to play against. While traditional Dalmatian sports such as boccia, which is universally liked and played by all generations, gives you the chance to try out something new, mini golf course at Zaton Holiday Resort also reminds you of the cultural-historical attractions from around the region.
So, why not gather a group of family members and newly acquired friends at the resort and play a game of beach volleyball, followed by a refreshing swim in the sea? Or try different ball games such as basketball, handball or futsal played outdoors. Sport facilities and activities available at Zaton Holiday Resort cater to everyone's taste, so doing sports and generally being active comes naturally both for those who want to take it easy and those who want to fill their holiday with sport.
Play in a tournament
With such excellent sporting facilities, Zaton Holiday Resort often hosts tournaments for various sports. For example, its twelve tennis courts, four of which have lights, are a great venue for a tournament. So why not watch or maybe even participate in a tournament - it doesn't matter if it's tennis, beach volleyball, beach soccer/football, outdoor futsal, boccia, darts or any other. Such competitions always have a special, exciting ambiance everyone wants to be a part of.
Why do sports on holiday?
Being active on holiday doesn't have to mean you have to go to extremes and do such physical exercise you won't be able to move the following day. Quite the contrary, you should choose to do sports you greatly enjoy, or you always wanted to try, and then take it easy. It's supposed to be just another fun activity on your holiday. And Zaton Holiday Resort is just the right place for that, since it has various options for all generations. So, be active, do sports and, most importantly, have fun!