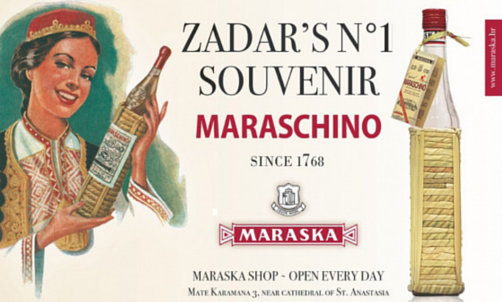 Top 3 souvenirs to take home from a holiday in Zaton
Souvenirs - the little (or big) items that people take home from holiday to remind them of the wonderful times they had, the amazing scenery they witnessed, the unusual customs, history and legends they learnt about, the unforgettable moments all their senses experienced. They serve not only as a reminder but also as an instant mood uplifter by evoking the special holiday moments.
Souvenirs are actually a very personal matter and they reflect personality and personal interests of an individual. The following are merely suggestions about very original products, native of Zadar region.
Maraschino
For more than a quarter of a millenium, the exquisite cherry liqueur Maraschino has been produced in Zadar. It derives its name from the marasca cherry that typically grows in Dalmatia and has a distinct dark red colour and a slightly bitter taste, which is ideal for liqueur production. Once enjoyed by the likes of Queen Victoria, Louis XVIII, Napoleon Bonaparte, Ernest Hemingway, Alfred Hitchcock and many other, Maraschino is a truly unique Croatian product. Visitors who don't like alcohol can also try out non-alcoholic products and still get the taste of the marasca cherry.
Food delicacies
Even though Dalmatian cuisine is among the healthiest in the world since its focus is on fish and olive oil, it is actually meat products that have been designated as the 'authentic Croatian' products. Once tried, meat lovers won't be able to resist taking home some šokol (dried pork product seasoned with locally grown herbs and the famous locally produced salt) as well as pršut (dry-cured ham). Besides locally produced ingredients and herbs, these two need bura (the famous 'bora' wind) to have a one-of-a-kind taste achieved. The only drawback with such souvenirs is that they don't last.
Salt
Zadar region is also renowned for its salt, produced here for the past 15 centuries. A visit to Nin Saltworks gives visitors an insight into salt production, the opportunity to witness the rich flora and fauna in the Saltworks Park and to take home the Flower of Salt as a souvenir. It has been referred to as the 'caviar of salt' due to its top quality and great nutritional value. Other 'salty' souvenirs include scented bath salts which can also serve as air fresheners. With scents of rosemary, lavender, pine and sea (!) it is the ultimate souvenir - the distinctive refreshing scent of the pine trees and sea air so typical of Zaton can be taken home that way.
Along the way
Maraschino, šokol and salt are true representatives of the Zadar region and excellent reminders of this wonderful holiday destination. Still, regardless of the souvenir you take home with, it's all about keeping the great holiday feeling alive. Even a random item such as a funnily shaped pebble you picked up while snorkelling can serve as a very personal souvenir. Indeed, the fastest and easiest way to create a lasting reminder of a holiday in Zaton is to make a travel journal, even if just by sharing experiences and photos online with friends at home. After all, with souvenirs memories simply cannot fade.
Image source: Zadar Tourist Board