Finding the Best Accommodation for Your Holiday at Zaton Holiday Resort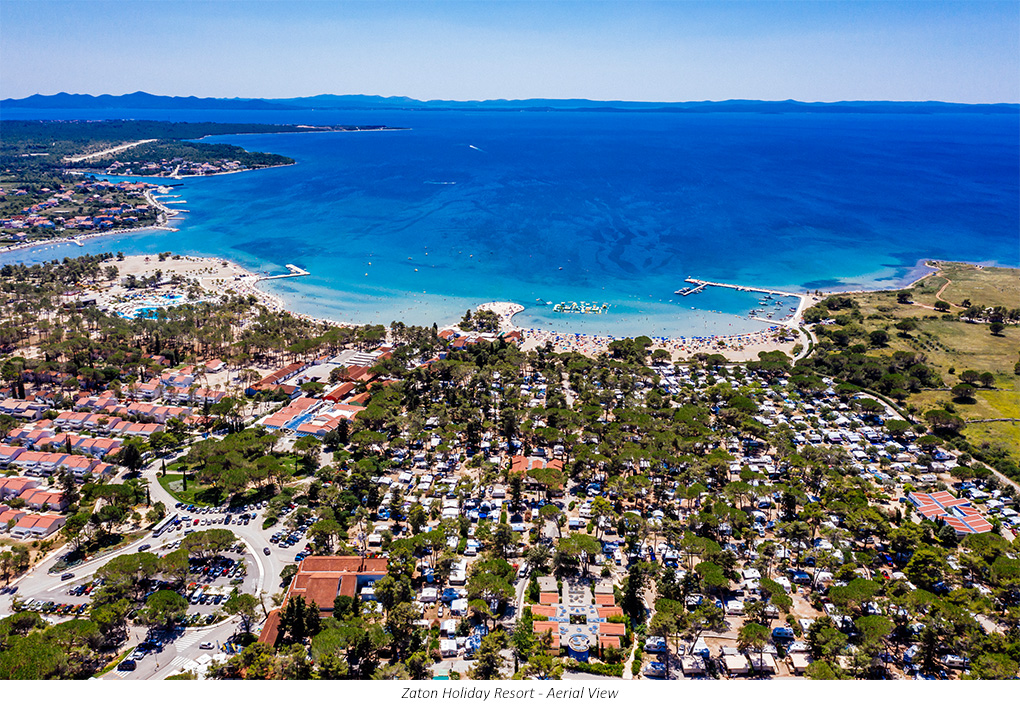 A homelike apartment with modern luxuries of a hotel. A cosy mobile home perfectly blended in Mediterranean scenery. A glamping tent for comfortable camping with a unique flair.
Regardless of your preferred accommodation choice, Zaton Holiday Resort welcomes you to a feeling of home, a touch of luxury and irresistible extras. So, check out your options, consider your preferences and make the right choice for your holiday:
The right size for the right number of people
Planning a lovely family holiday? Want to surprise your partner with a romantic getaway? Travelling with a group of friends? The resort definitely has the most suitable unit for your stay. Apartments are generally larger in size for the same number of people, but the ideal layout of the mobile homes and glamping tents promises full comfort as well.
Couples can find their love nest in a studio apartment for 2, while families with one or more children or your crew get to pick the perfectly sized unit among apartments for 4, 5 or 6 people, glamping tents for 4+1, Comfort mobile homes for 4+2, Premium mobile homes for 6+1 and Superior for 5+2 people.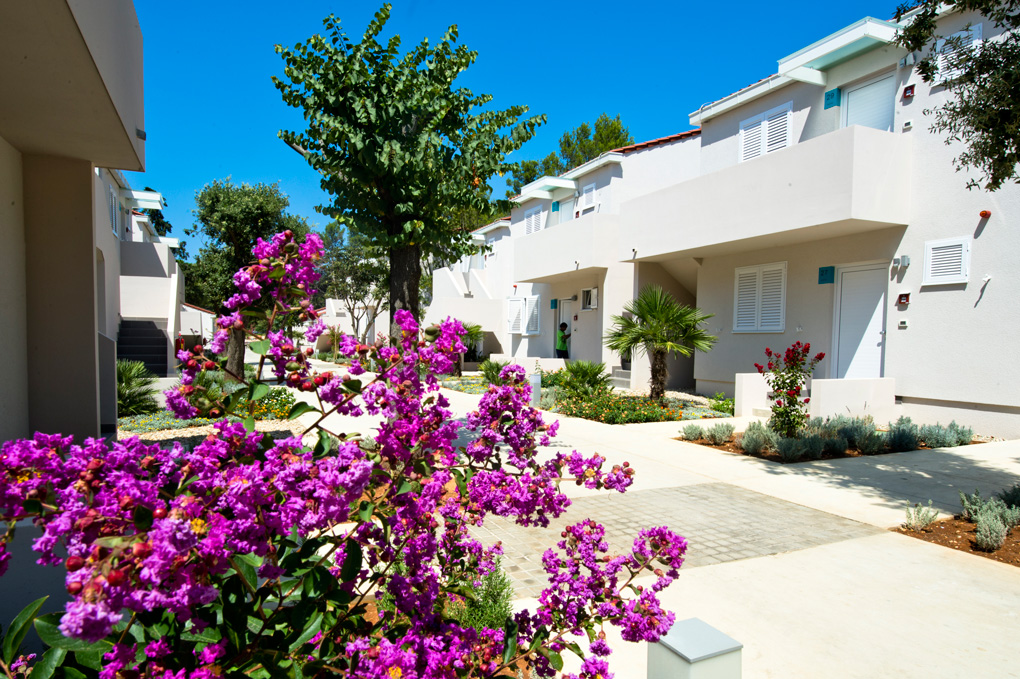 Apartment
Location matters … or not
Just a stone's throw away! The resort is mostly a pedestrian zone, so all the necessary amenities and points of interest are within easy reach on foot.
Glamping tents and mobile homes are situated in the upper part of the campsite. It's your oasis of peace and quiet on the western side of the resort. Staying in an apartment, you get to be the closest to the central Kalelarga street, the beach and the swimming pool complex as well as the Flip Flop Activity Park.
Choose an apartment because…
You love the space and the privacy and wish to have absolute comfort as you do in your own home. With the apartments at Zaton Holiday Resort you not only get stylishly decorated interior with modern household appliances, but also the luxuries of a hotel. Both 3* and 4* apartments (some of which were built just a year ago) are air-conditioned and also come with a furnished terrace or a balcony overlooking a playground for quality moments with your favourite people.
But maybe you would also like to consider a mobile home?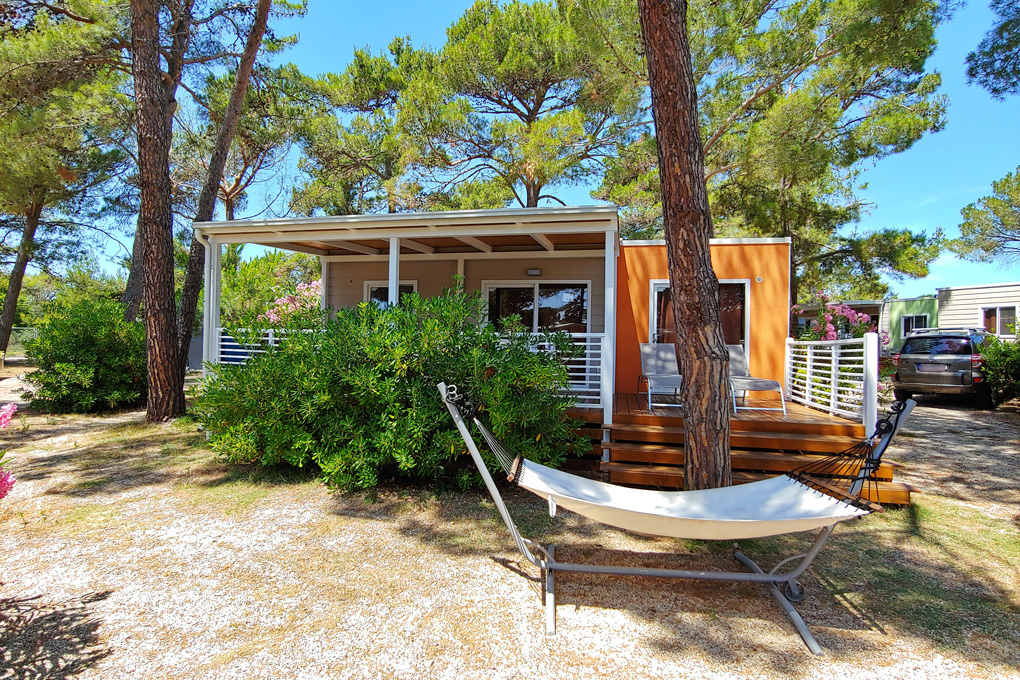 Mobile Home
Choose a mobile home because…
You would like to feel closer to nature, yet wish to keep the comforts of modern life. Similar to an apartment, a mobile home provides air-conditioned space for a good rest and is fully equipped for a cosy stay. Its spacious roofed outdoor terrace is a great place to bond, spend time together sharing meals, playing games and just having fun. Next to your mobile home you will also find a garden patch with native herbs and some veggies for free use.
How about giving a glamping tent a go?
Choose a glamping tent because…
You want to have a unique camping adventure with a touch of glam. With neutral tones calling to mind safari as well as a fully equipped interior and a large patio, a glamping tent at Zaton Holiday Resort promises an amazing experience with more privacy than with traditional forms of camping. It also requires you to bring along hardly any equipment or camping gear, but you still get to have a lovely time in beautiful nature.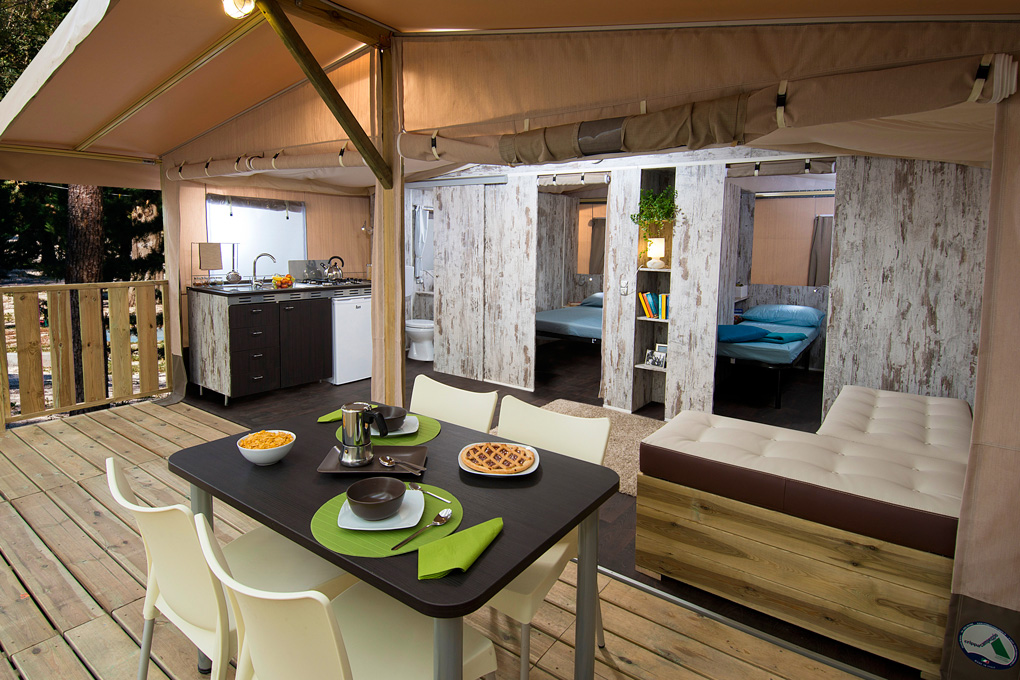 Glamping Tent
Or maybe you'd like to go camping because…
You love the outdoors and fragrant Mediterranean vegetation not to mention the fact that Zaton Holiday Resort makes camping easy for you! Known as one of the best campsites in Croatia, it offers you extensive pitches with all the necessary hook-ups and state-of-the-art sanitary facilities adapted for families and people with disabilities.
Cannot go wrong with Zaton Holiday Resort because …
It's home! A camping enthusiast or a traveller who doesn't want to give up the comforts of modern life, the resort is your top destination for a fabulous holiday. Whether you plan to stay in an apartment, a mobile home or a glamping tent, look forward to absolute peace and quiet, pure entertainment, fun activities, relaxation, to those fulfilling holiday moments you cannot get enough of!