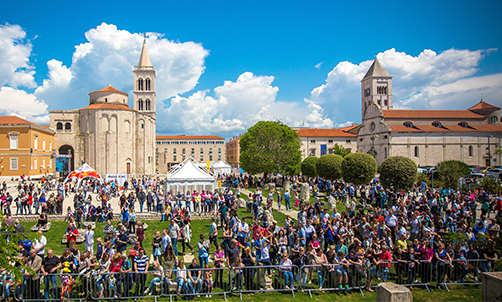 Choose May for an Early Active Holiday in Zadar Region
Take off the layers of winter clothes, get rid of the gloom and step into the sunlight! It's time to rise and shine. Daytime is getting longer, flowers and trees are in bloom, the weather is getting lovelier with each passing day.
It's the perfect time to take a break from everyday worries, to be active and recharge while witnessing the awakening of nature. Zadar region offers you a variety of events and options in May that invite you to an early active holiday.
To the top … in Paklenica
Challenge yourself to a climb to remember! National Park Paklenica hosts the annual International Climbers Meeting on April 28 - May 1. Besides being held on one of the best spots for climbers, the event includes categories for kids and teens, which makes it fun for the whole family. It is also an excellent excuse to hike the trails in Paklenica, explore the caves and canyons, take in the beautiful nature in spring.
Run with the world… at Wings for Life race
Run for those who can't. For the fifth time in a row, Zadar hosts a Wings for Life race which takes place at the exactly same time on different locations all over the world on May 6 2018. Anyone can join in, since it's a race for a good cause and it's not at all about winning. All in all, it's one fine day in Zadar, a day to be & see.
Go out … for Zadar Outdoor Festival
Run, sail, cycle, swim and paddle! The 5 actions illustrate very generally what to expect at Zadar Outdoor Festival that takes place on May 11 -13 2018. The event is a great opportunity to be active, explore the region and have a great time. It also celebrates the diversity of landscape and attractions you can admire in Zadar (region). So, come alone or form a group of active holiday enthusiasts, apply for the festival and spend a few exciting days there. You don't even have to worry about the equipment, because it will either be provided by the organizer or you can rent it.
Feel inspired as you run along the coast, past Zadar's attractions only to finish by the Greetings to the Sun and the Sea Organ, witnessing the famous sunset. It's a deep aaaahhhh as you run through the finish line of a 5km or 10 km Sunset Race on May 11 2018.
Time to discover the natural beauties of Zadar region on May 12 2018! The participants can choose between a sailing regatta, MTB cross country race and an island trail. The first one includes sailing in Zadar Channel past the islands of Ugljan and Pašman. The cycling race begins in Petrčane, goes past Zaton Holiday Resort and Nin towards Vir where it finishes. The Olive Island Trail includes a shorter 8,7 km trail even your kids can do and a longer 20,6 km trail on the island of Ugljan.
Zadar Outdoor Festival finishes on May 13 2018 with another celebration of Zadar's attractions. The 2222m Sea Organ Swim takes place at 9 o'clock between the said attraction and Foša, Zadar's historical port. Not long afterwards the Kayak City Race starts and it involves paddling along the historical.
Actively open the season at Zaton Holiday Resort!
You are invited! To Zaton Holiday Resort, starting from the end of April 2018! To spring awakening in Zadar region! To an active trip of discovery on foot, by bike, boat or a raft! Get ready for some adventure and … May the force be with you!
Cover image: Zadar - Wings for Life, author Ivo Biočina, image source Croatian Tourist Board