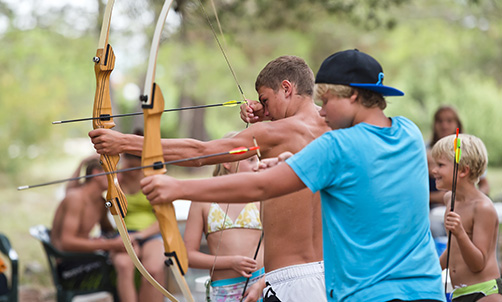 Team vs. Individual Sports in Zaton
An early morning jog, along the shore with the view of the calm sea and no one else around, just you. Or a happy high five with your teammates as you score a point in a game of beach volleyball. Whatever you prefer, at Zaton Holiday Resort you can easily do almost any sport according to your terms and pace. After all, it's all about being active and feeling good.
Going solo
Fast or slow. For half an hour or three. With no competition but your inner self telling you to try just a bit more. Individual sports allow you to be your own master, but you're in it on your own. So, listen to your beating heart as you run surrounded by peace and quiet in Zaton. Feel inspired as you stop for a break from cycling to take in the beautiful landscape in Zadar hinterland.
Go for a morning swim to start the day with a good exercise and to appreciate the lovely sea. Put on your goggles and snorkel to see what lies under the surface. For an even more exciting adventure in the underwater world of the Adriatic Sea, go diving deeper. In case you prefer to stick to the surface, why not hop in a kayak? That way your upper body gets a great exercise, while you get to explore the coast a bit. You can also put your skills and endurance to test and try to fight the sea and the wind while windsurfing. Even though you needn't do these activities alone, you can if you wish so. And then it's just you, your inner motivation and the inspiring nature around you.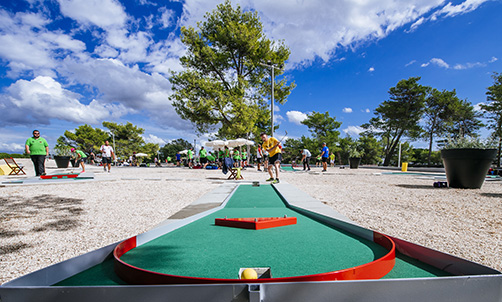 Two of a kind
Dare to play in pair! Some sports simply don't make sense unless played with another person, even though they are technically individual sports. So, the outcome may depend on a single player, but it takes (at least) two to play an interesting game of ball. In other words, all you have to do at Zaton Holiday Resort is to jump at the opportunity to play a game of boccia, a set or two of (table) tennis or a mini golf match. It's one fun game, set, match.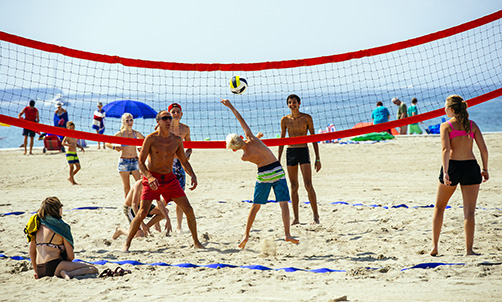 Team up to keep the ball rolling
Kick! Pass! Throw! Shoot! Serve! Form a team and play a game of football, handball, basketball or beach volleyball at Zaton Holiday Resort! Being a part of it means being active together and having a great time at the same time. The score? Unless it's a tournament, who's keeping track?
The ball is in your court
Would you like to focus on becoming (or staying) fit while on holiday by doing your favourite form of exercise on your own? Or do you prefer to become a part of a team for a carefree, fun ball game? At Zaton Holiday Resort, it's entirely up to you. But you can definitely give yourself a high five for being active outdoors in beautiful nature of Zadar region.