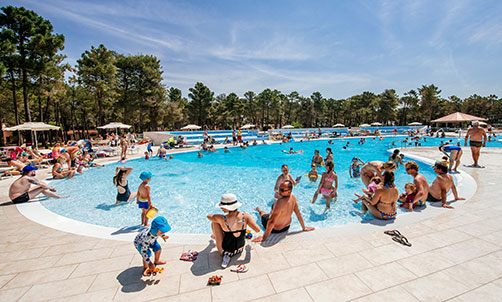 Amazing New Swimming Pool Complex at Zaton Holiday Resort
Swim, slide, sprinkle, sunbathe and smile. These five words roughly sum up what to expect at the completely refurbished swimming pool complex at Zaton Holiday Resort, but no word can describe the fun and joy you'll get to experience. Famous for their continual efforts to make great even greater, the resort has really gone out of its way this time so that the guests have summer moments they will never forget.
Here's how every member of your family will get to enjoy: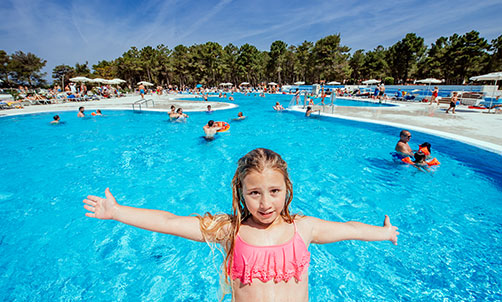 Pools for kids
0,30 m is the depth of pools intended for children, which means that they can have a great time at the pool free of care. A toddler, preschooler or a tween will have a splash at the three pools of different sizes - a larger one with surface area of 340 m2 as well as two connected pools of 220 m2 and 60 m2. Swimmers or not, children cannot get enough of the new swimming pools.
Slides and a spray park
For the ultimate fun at the pool, there are a number of slides, open slide tubes and a tunnel. Once there, it's nearly impossible to convince the kids to go elsewhere, particularly when they slide down to the spray park. Watching the kids scream with joy under the water sprinklers will most definitely bring a smile to your face as well.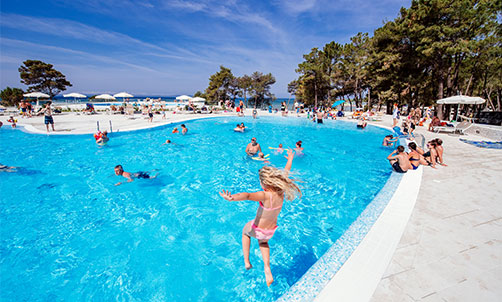 Pools for swimmers
Be active and dedicate some time every day to swimming. It's an excellent form of exercise which is so easy in the pool without having to worry about waves. Two of the existing pools were renovated for that purpose and another one added with altogether almost 1000 m2 of surface area. With the depth of 1,30 m these three pools will also be a favourite for your teens.
It's massage time … with a view!
Imagine yourself sitting on a pool bench, having a nice hydromassage and admiring the view of the Adriatic Sea in the distance. Well, at Zaton Holiday Resort's new pool complex your daydream will come true. There are three pools of roughly similar size (around 100 m2) and a larger elevated pool with a fabulous view, all with hydromassage beds and benches.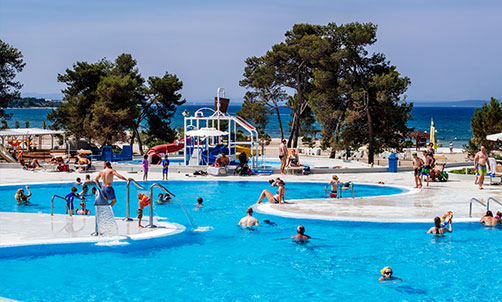 Relaxation on the sun deck
Relax at the beach. Swim, build sandcastles or do water sports. Go sailing or diving to explore in detail the beauty of Adriatic Sea. Hike or cycle to learn about less known places in the vicinity of your holiday destination. Choose your adventure and make it happen in northern Dalmatia.
Extra entertainment at the pool complex
In addition to fun everyone gets to experience at the pool, there is a large amphitheatre intended for animation. In other words, at Zaton Holiday Resort good times never stop in and out of pools for guests of all age.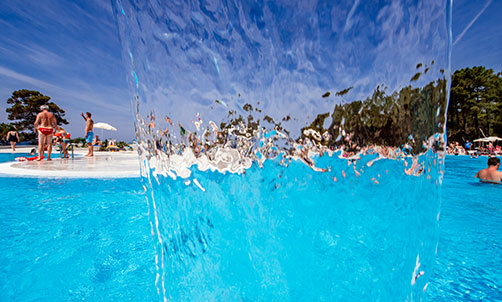 Swimming pools of fun
Life is simply fabulous at the swimming pool complex in Zaton. The only issue parents might have to worry about is how to get their kids out of water. So, splash and slide, swim and dive into the new swimming pools at Zaton Holiday Resort, where summer fun is truly irresistible.