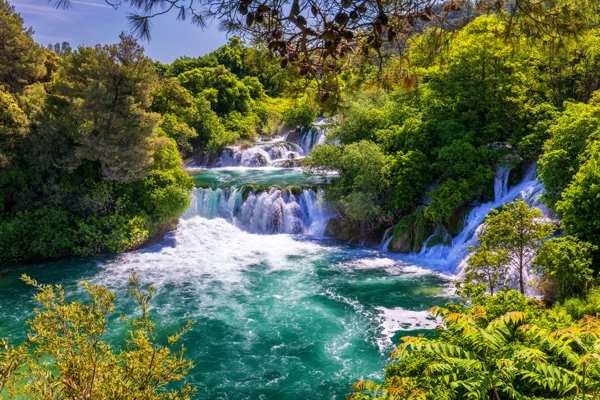 From Nature to Culture - Top Excursion Ideas in Wider Zadar Region
Swimming and sunbathing. Relaxing. Doing sports and favourite activities. Exploring destination and learning new things. Trying out delicious traditional Dalmatian food and typical pastimes such as playing picigin in the shallow water. These are some of the essential parts of a wonderful summer holiday in Zadar region.
To make it even better, choose wisely the places of interest you would like to visit and here are a few suggestions about irresistible must-sees when staying in Zaton.
Discovering Croatia's gems - national parks
When spending a holiday in Zadar region, visitors are conveniently near to four, even five, out of eight Croatian national parks and a couple of nature parks such as Vrana Lake (between Zadar and Šibenik) and Telašćica bay (Dugi Otok island). Crystal clear turquoise water, soothing green of well-preserved nature and refreshing sprinkling water of cascades and waterfalls is what makes a day trip to national parks Plitvice Lakes and Krka such a rewarding experience. Similarly, fans of sailing and diving take great pleasure in sailing around Kornati islands even if for just a day, not only because of the islands' amazing geomorphological shapes but also due to the practically untouched nature and rich underwater world. A great variety of flora and fauna is also one of the great features of Paklenica national park together with its canyons and other geomorphological shapes. It's the perfect excuse for a hiking trip to get some refreshment from the summer heat.
Picturesque Dalmatia - from villages to cities
Many of even the smallest villages on the coast or in the hinterland have traces of human presence that go centuries back. They have also preserved the typical charm of Dalmatian architecture in spite of modern-day tourism -from Šibenik's fortresses and St james's Cathedral (UNESCO World Heritage Site), Zadar's historical peninsula and modern attractions such as the Sea Organ and Greetings to the Sun to towns and villages with rich cultural-historical heritage such as Nin, Pag and Novigrad. By taking a walk or a bike ride along the historical streets and by feeling their pulse the visitors get a great picture of Dalmatia, then and now. From ancient hamlets to modern cities full of exciting legends, it's almost hard to decide which to visit, and they are definitely worth a trip.
Actively exploring the region
The beauty of discovering the amazing natural and cultural-historical heritage in the immediate surrounding when on holiday in Zaton also lies in the fact that many of the excursions can be done in an exciting way. For example, why not go cycling to Nin or around Vrana Lake? Or visit Novigrad and then explore Zrmanja river in a canoe? Only sky is the limit when it comes to options, the only difficulty lies in deciding where to go and the time limit of the holiday. After all, it's practically impossible to choose which is more amazing - Šibenik or Zadar, Krka or Plitvice and so on. Among so many excursion ideas, the best one for you is the one that makes every member of the family happy, the one that fills the body and soul with impressions. Of nature, culture and history. According to whichever matters more to you.